The
"secret sauce"

behind cutting-edge

Cardiology Clinics

across the world.

Clinicea, the booster shot for your Cardiology Clinic. The most comprehensive Cardiology Clinic management software. Loved for being super-easy.
20 Specialties in 6 Continents, switched to Clinicea!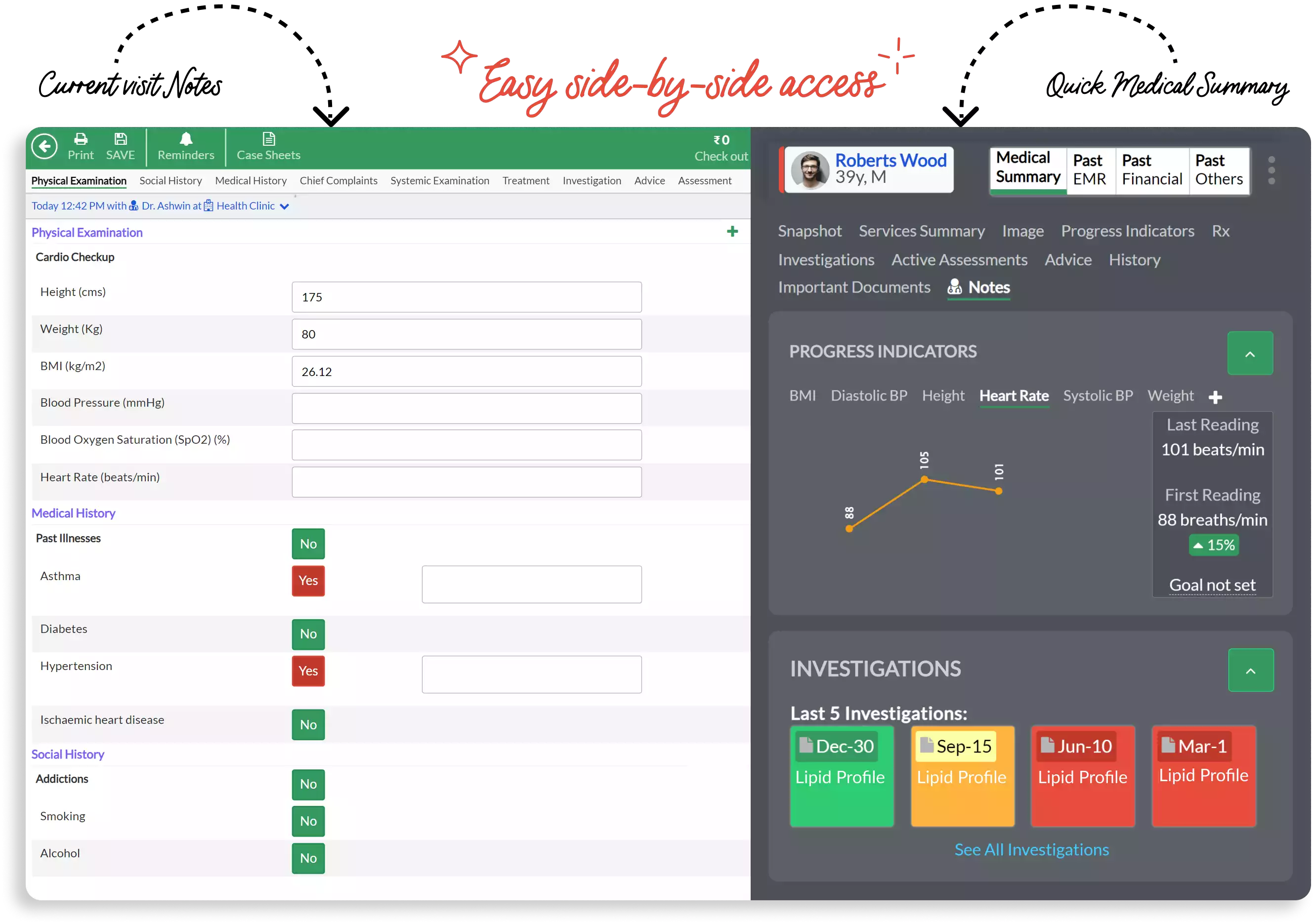 EMR
Super Specialised Cardiology EMR for your Clinic.
Clinicea Cardiology EMR simplifies the workflow of Cardiologists by providing pre-built templates, for Hypertension, Cardiac Exam, Pacemaker Visit, Murmur Evaluation, CHD's, PMD's and more. Along with medical imaging, integrated lab results and dedicated procedure reports.
Comes with comprehensive support for addressing Chief complaints, HPI, Review of Systems, System Examination, PMH, Family History, Surgical History, Social History, Sedentary lifestyle Checks, Alcohol and Tobacco Habits, Dietary & Lifestyle Advice and much more.
Particular attention has been paid for writing super quicker prescriptions with reusable protocols, favourites, ready combos and much more. You can also simply copy over and edit a previous visit note. The perfect EMR for your Cardiology practice is here.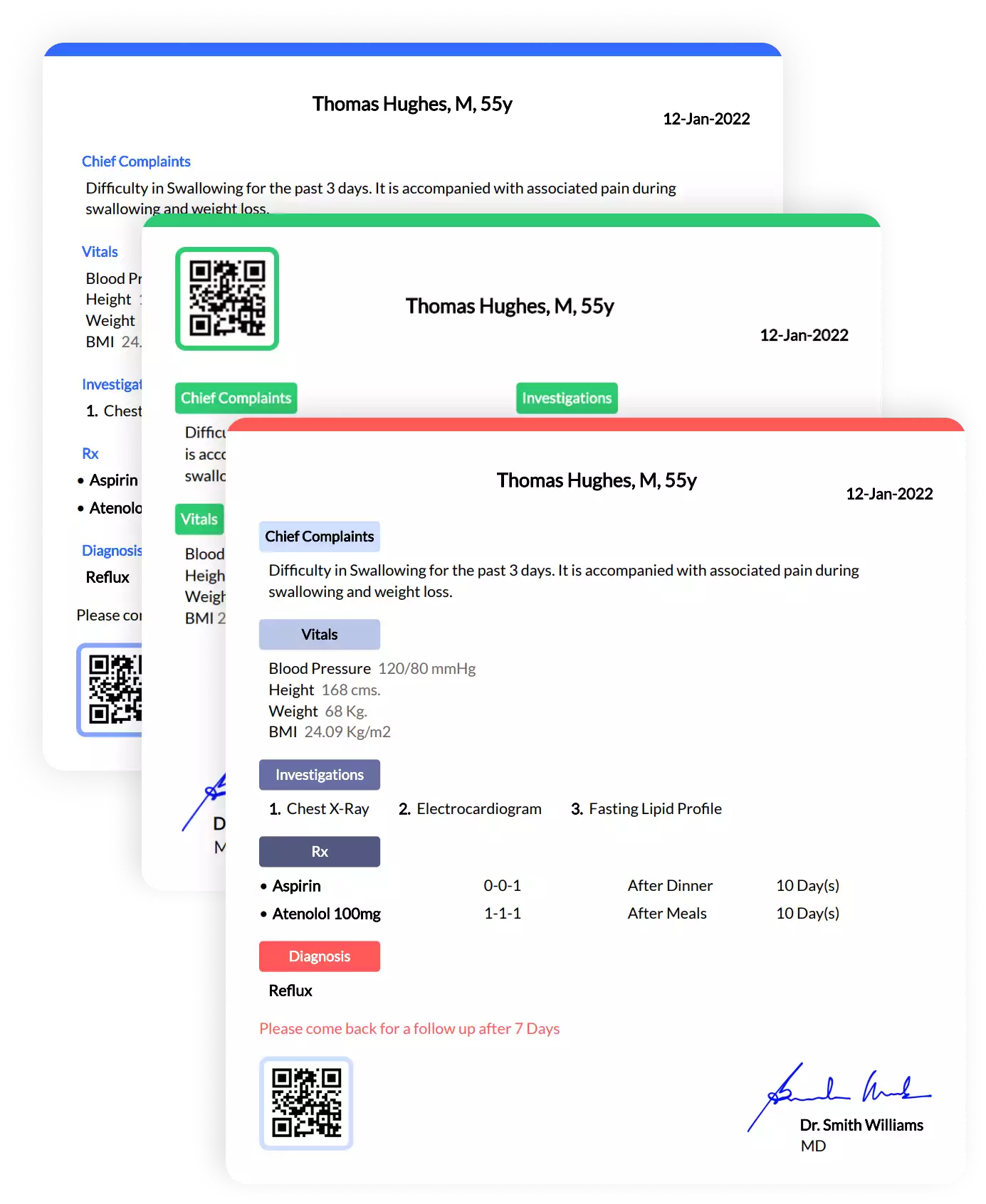 EMR
Flowsheets for your Cardiology Clinic.
You get editable Flowsheets for each individual treatment. It helps to maintain checklists at the point of care and note down treatment details. Such a system ensures that Therapists even in the absence of Senior Practitioners provide consistent level of service and care to Patients in your Clinic.
You can further add or edit, existing intakes, questionnaires and checklists as follows:
Define the questions you want to ask, to create your own questionnaire.
Control the look and feel of each question and answer.
Make the questions super smart, by making them gender-aware and clinically smart.
Add the option to prompt for before-and-after images as part of the form. Annotate on images taken off your camera.
Create checklists based on reason of visit and have it come up automatically in the patient's chart for fill-outs.
Use the prepared casesheets for yourself or auto-share with your patients over email/SMS for specific scenarios.
Have the answers graphed, aggregated, computed, linked – anything you need to get done.
Save prefilled templates for reuse and super-fast completion of notes.
Switch-on auto computing formulas, mandatory fields, abnormal data detection, auto population of history data and much more.

EMR
A picture can speak a thousand words.
Use the smart imaging tool on the cloud from Clinicea. It auto filters the library based on patient's gender. Hooks up to your camera directly, so you can take pictures straight inside Clinicea. Compares treatment images and more.
Before and After Images
Comparative "Before and After Images" are a must for Cardiology Clinics. Using Clinicea you can store multiple before and after Images from various angles and associate them with each Package, as well as with each Treatment Sitting.
Draw, Annotate, Highlight
You can now upload any type of Image for a Patient, and draw on them. You can also annotate and highlight right on the image and save it against the Patient's record.
More Imaging Tools
Compare up to 4 images at a time.
Watch a pre-made slideshow of all images for each patient – courtesy, your in-built personal image assistant.
Clinicea also has in-built auto-compression and resizing algorithms to ensure image sizes are optimized automatically.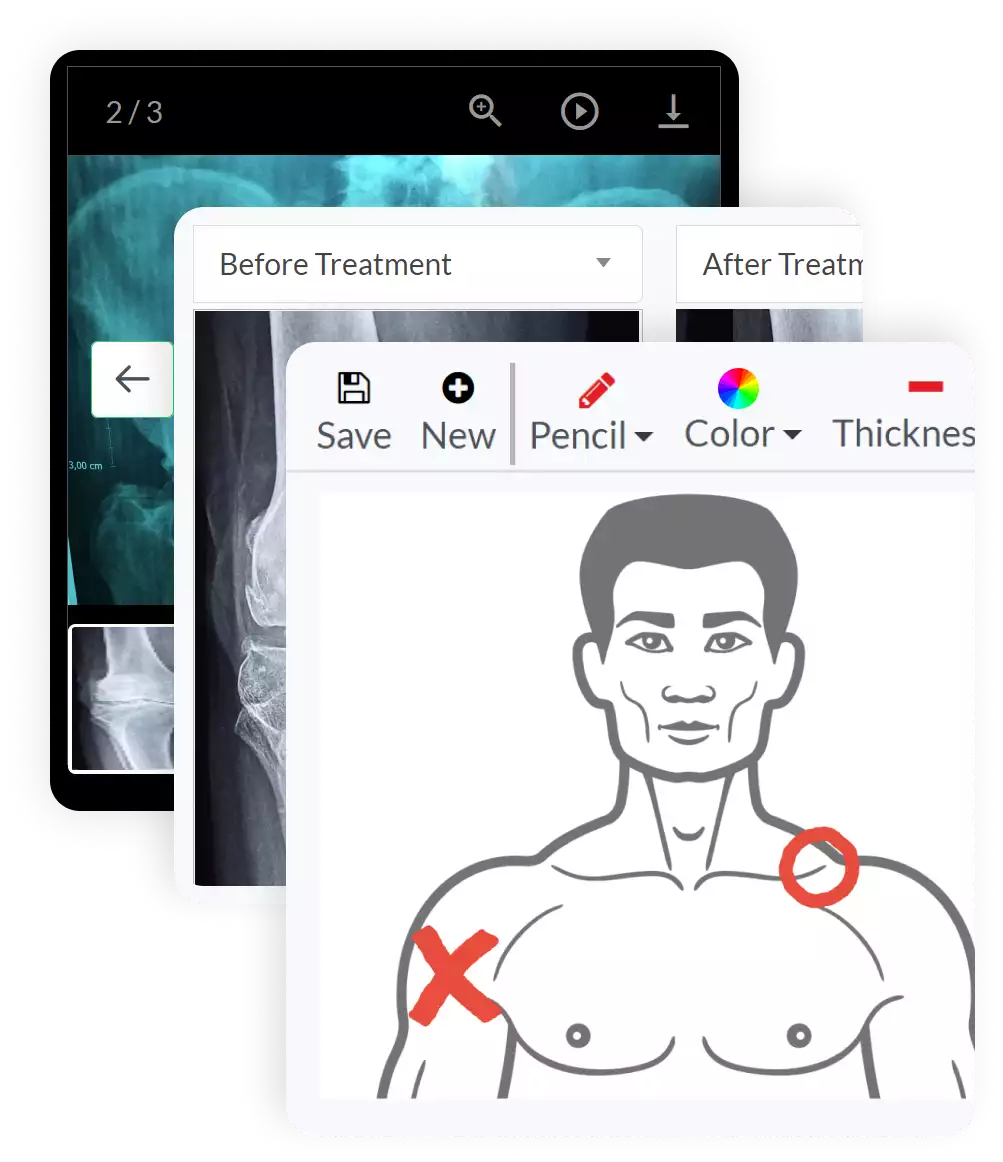 EMR
Stunning Prescriptions are here to stay!
We understand the need for the "Perfect Prescription". For your patients, it is the only tangible output of all the effort you are putting behind EMR. Switch to the next generation in prescription technology - QR Coded, digitally signed, completely personalised. Any layout, any combination of data, vital charts, lab trends, or graphics.
Tired of hearing, 'it cannot be done'- come talk to us . Any design you can think of under the sun, we can do it.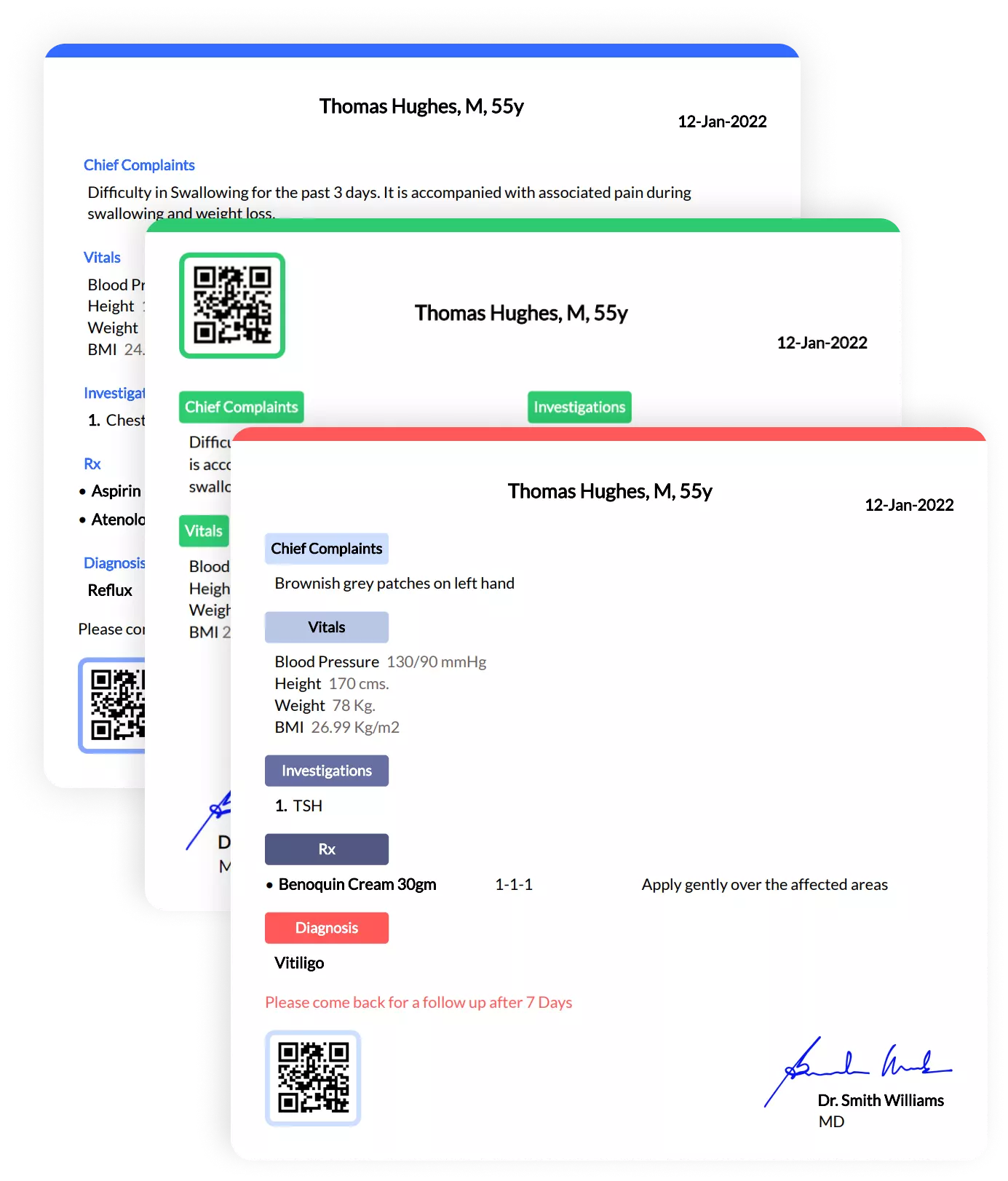 EMR
1-Click Medical Summaries.
A good EMR lets you record medical data easily, but a great EMR actually gives something back to you. It saves you time by crunching all the data, analysing it, and then presenting it to you in an easy to consume format. This is what Clinicea EMR does for you.
Clinicea EMR module scans through all the medical records of a patient to identify pre-conditions, PMH, ongoing Rx, important trends in investigation results and more. Everything is combined to present to you an automated 1-page medical summary for each patient. Available as soon as you open a patient's chart. Fully customisable – so that emphasis can be laid on what matters to you the most. Now, prepare for patient visits with just one glance.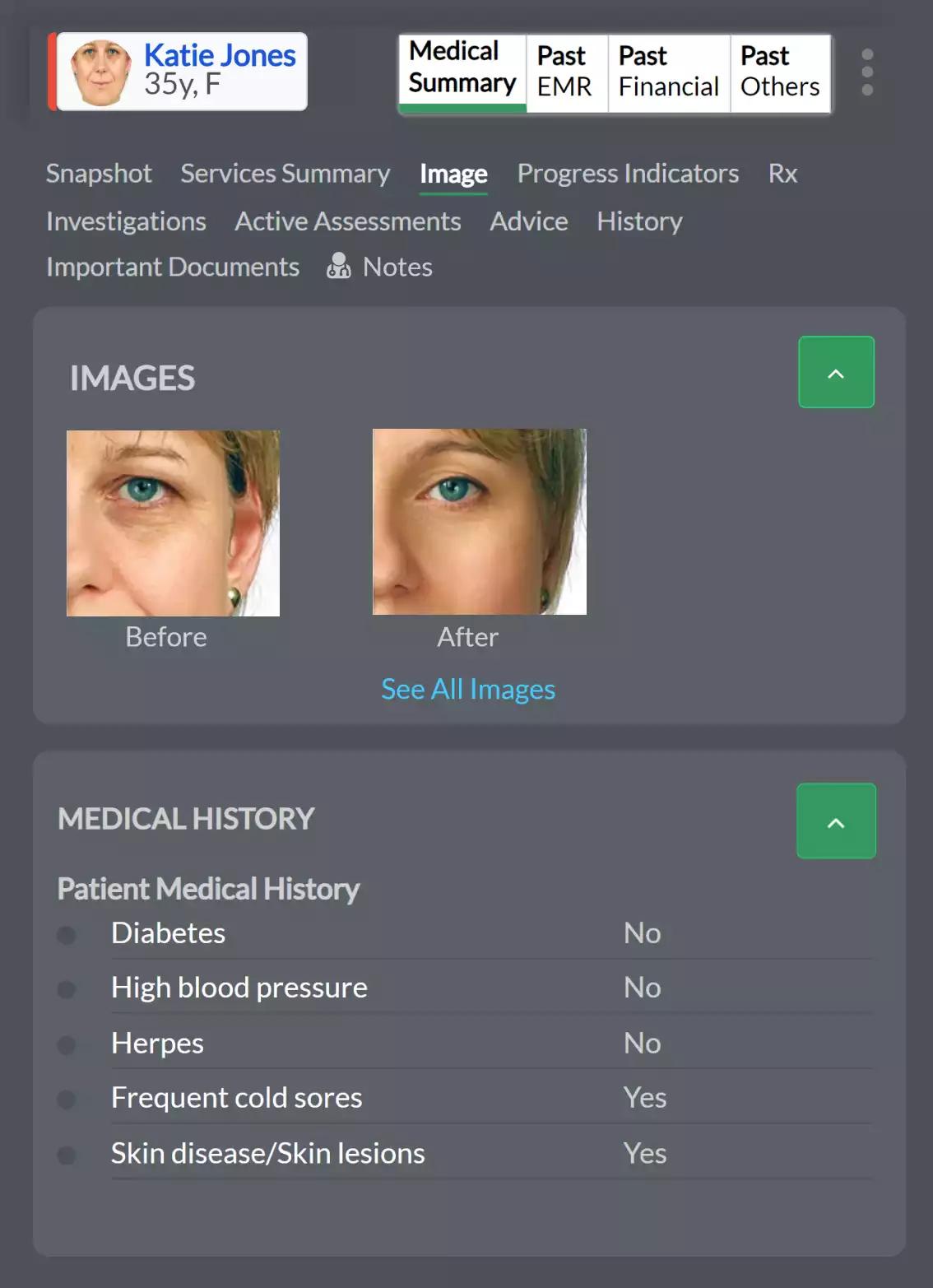 EMR
Compare Visits Visually.
Clinicea sets up neat visualization for you, with border-line markers. The markers have in-built intelligence. They re-align themselves as per patient's gender and age. Identifying a trend is quick and easy.
For chronic cases you go a step further with the "Compare Visit" Tool. You can visually compare progress for a patient across multiple visits. In-built clinical intelligence ensures that you arrive at meaningful analysis, without complications of filtering and sorting. Track progress intuitively at the click of a button.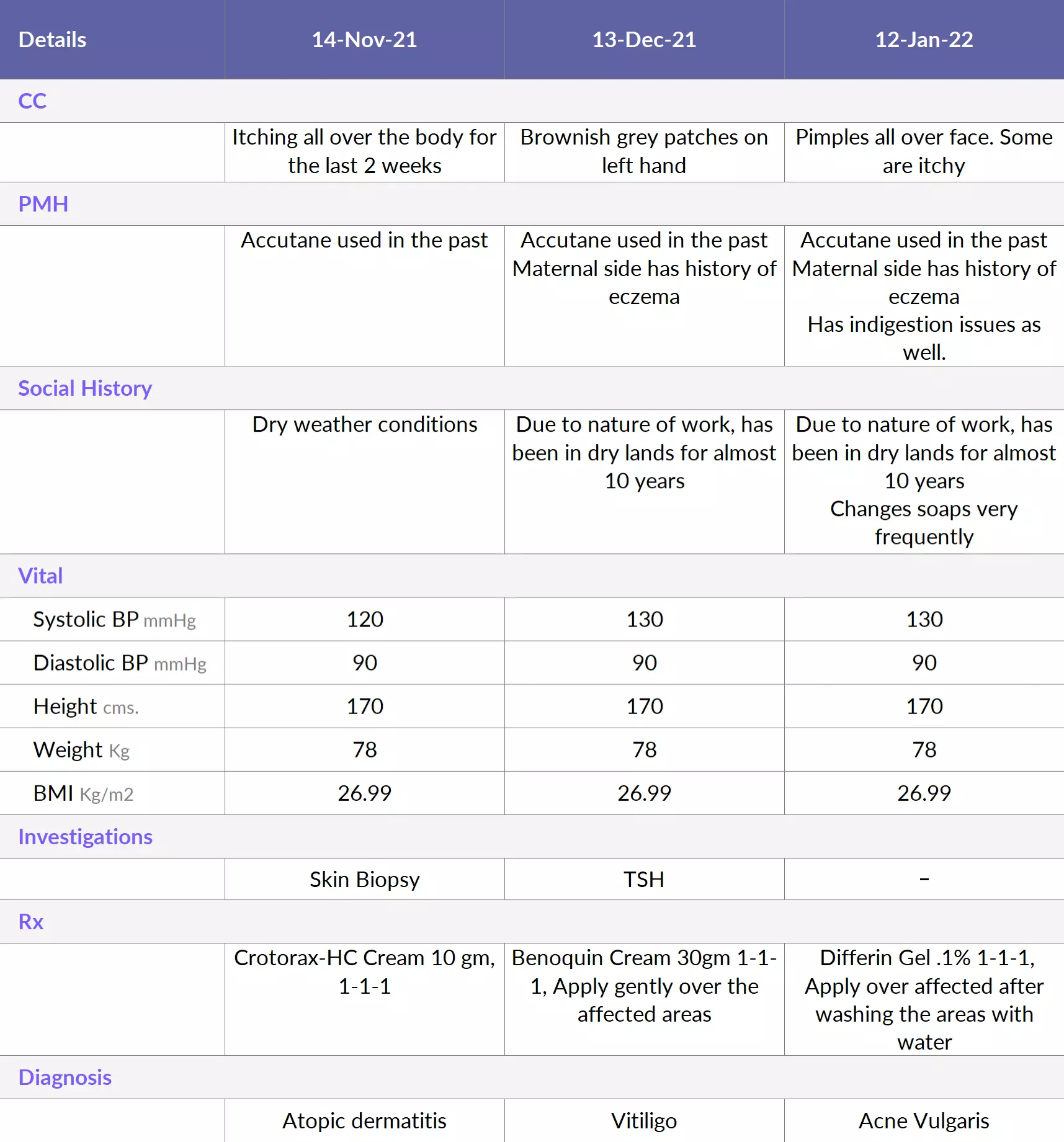 Clinic Engagement
In-Built Telehealth via Zoom.
Zoom is great for secure video calls. However, there is a lot more that your Virtual Cardiology Clinic needs for a successful Teleconsult. We understand that and have all of it covered in Clinicea.
Issue join-in reminders to the patient to ensure timely attendance.
Write notes easily in the EMR while engaging the patient.
Show progress indicators, and trends by sharing your screen.
Switch-on collection of payments online. Money gets deposited directly into your account.
Issue e-prescriptions as soon as the call is over
Ensure automated feedback collection to build your online brand.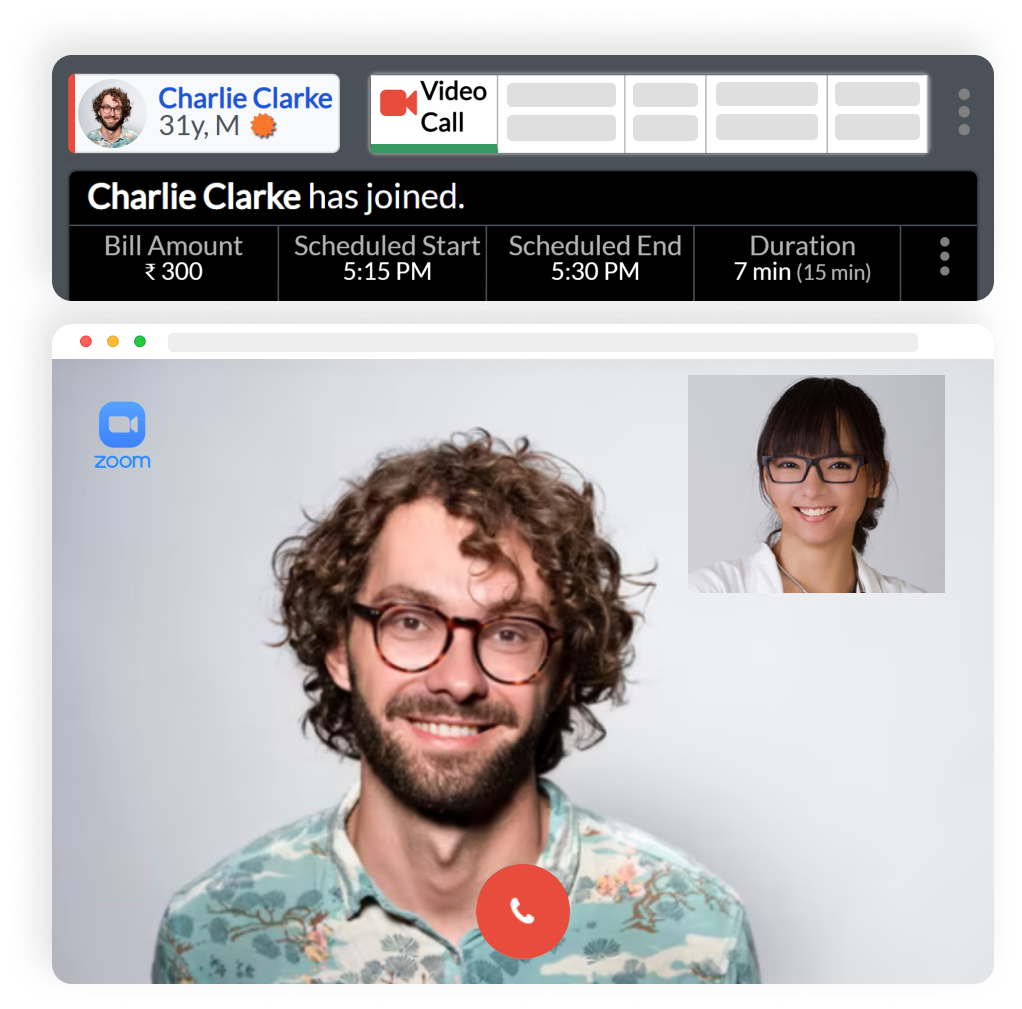 Clinic Engagement
Fool-proof Consent Management.
Ensure easy compliance by switching on automated consents. Clinicea comes with ready to use consents for your Cardiology Clinic. You can use it out of the box or have custom content designed for yourself. Fool-proof workflows ensure consents are prompted for, digitally signed off, and saved against the patient's chart before a service is rendered. Have the peace of mind that clinic is medico-legally sorted with "assured automated Compliance".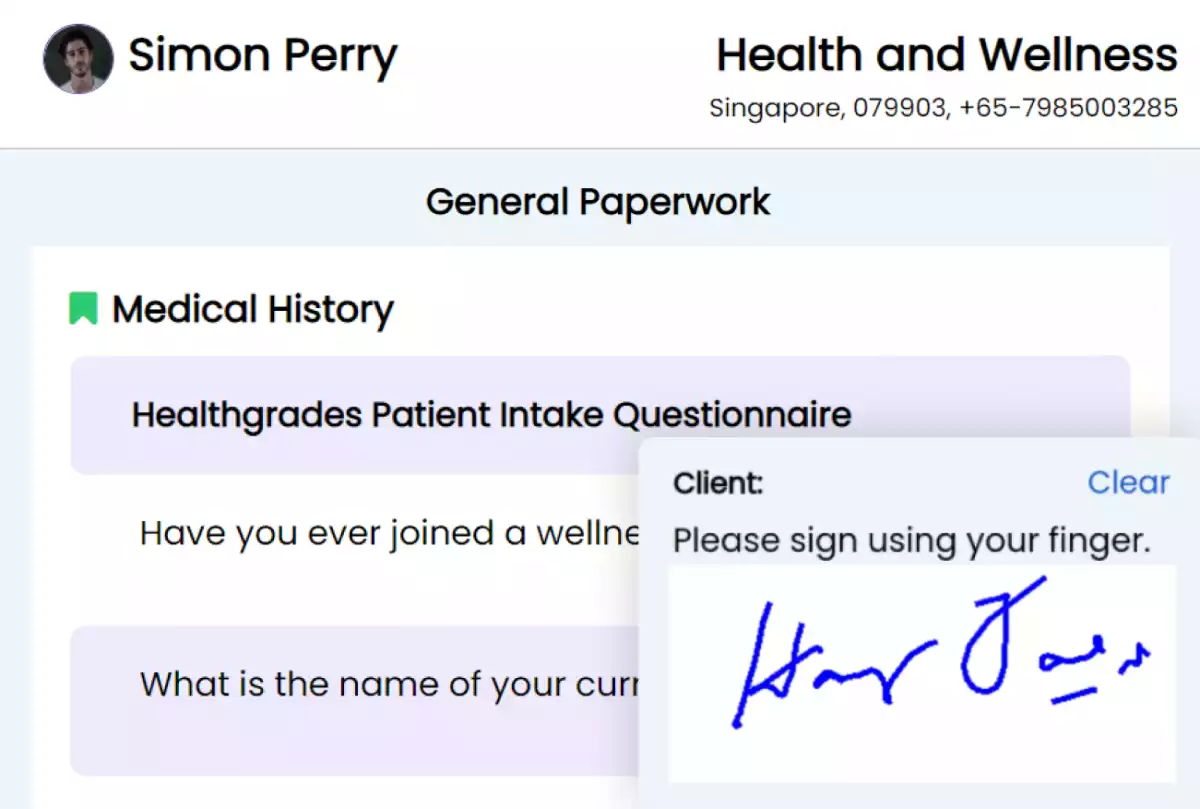 EMR
Preventive Health Reminders.
Setup preventive healthcare plans for your chronic patients once and let Clinicea manage it for you, from thereon. Annual Heart Health Check-up or any other action items you want. Build generalized plans, which can be fine-tuned for individual patients.
Once the Plan is set in motion, Clinicea will track when check-ups are due. It will automatically create appointments for you, recall patient, send out SMS reminders, and when the patient comes in, Clinicea will brief you as to which health checks are due.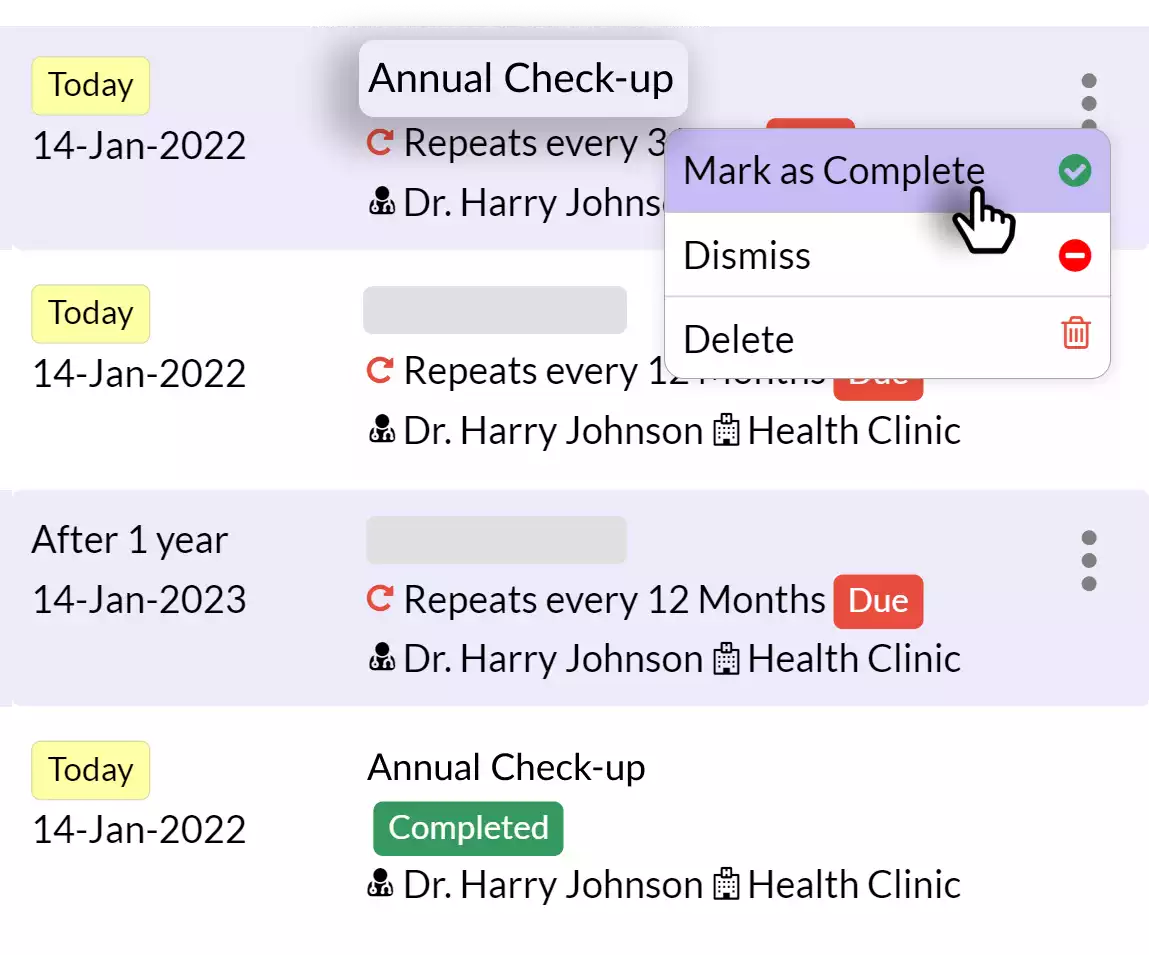 EMR
Medical Coding Support.
In-built support for various types of medical coding to ensure your Cardiology Clinic complies with all local regulation as needed. Includes support for ICD-10, ICD-9, CVX, RxNorm, LOINC, SNOWMED-CT, HCPCS and more. Data exchange, compliance and insurance claiming, all made easier with the Clinicea EMR.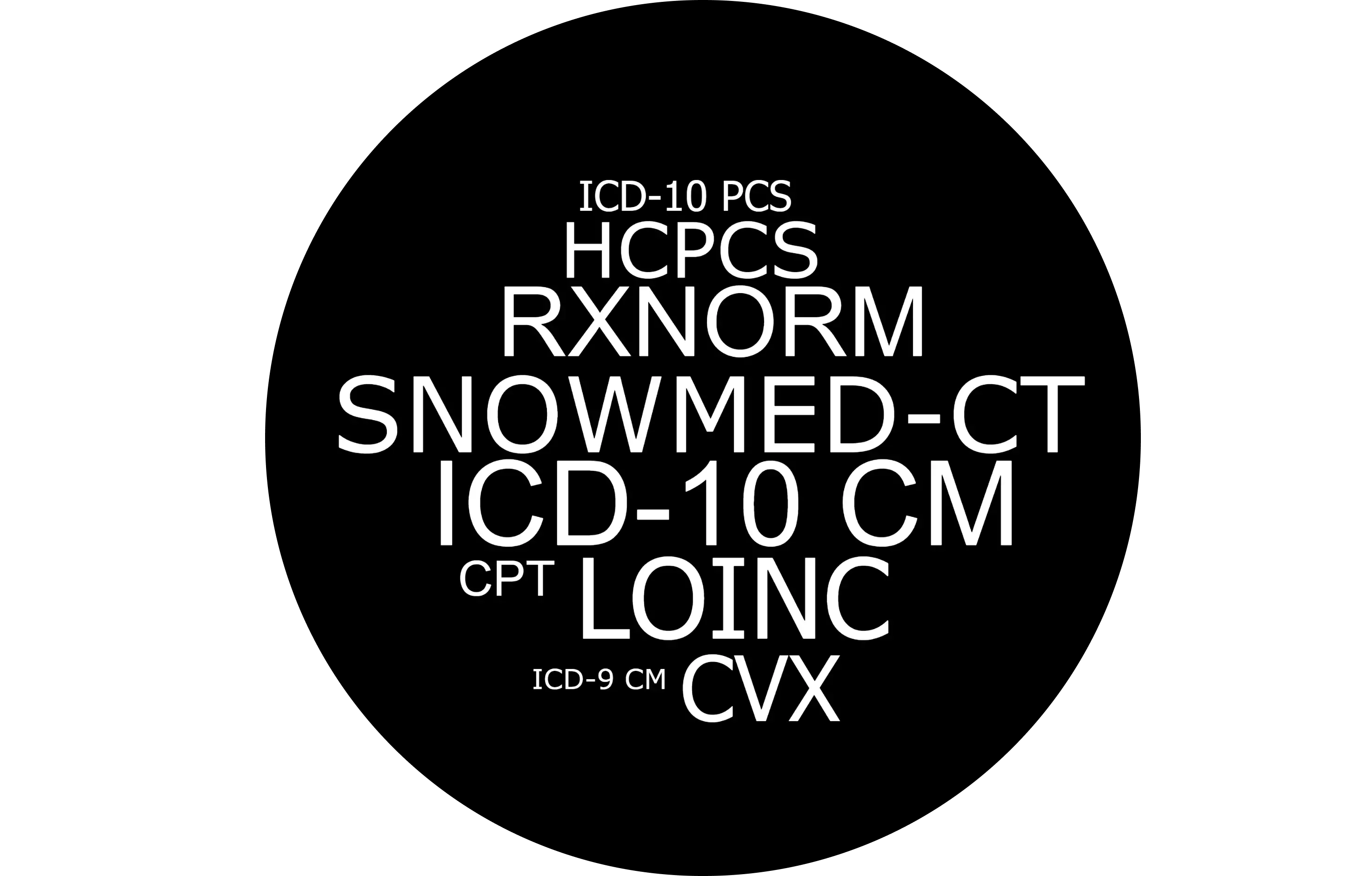 EMR
Mine your Data.
It has been a pet project at Clinicea to assist Clinicians in research by helping extract, dissect and analyse EMR data for publication in journals. To facilitate this process, we have developed a 'clinical audit tool'.
The clinical audit tool will help you mine data, draw inferences and support research. It also checks the quality of clinical data, and lets you know where the processes have scope for improvement.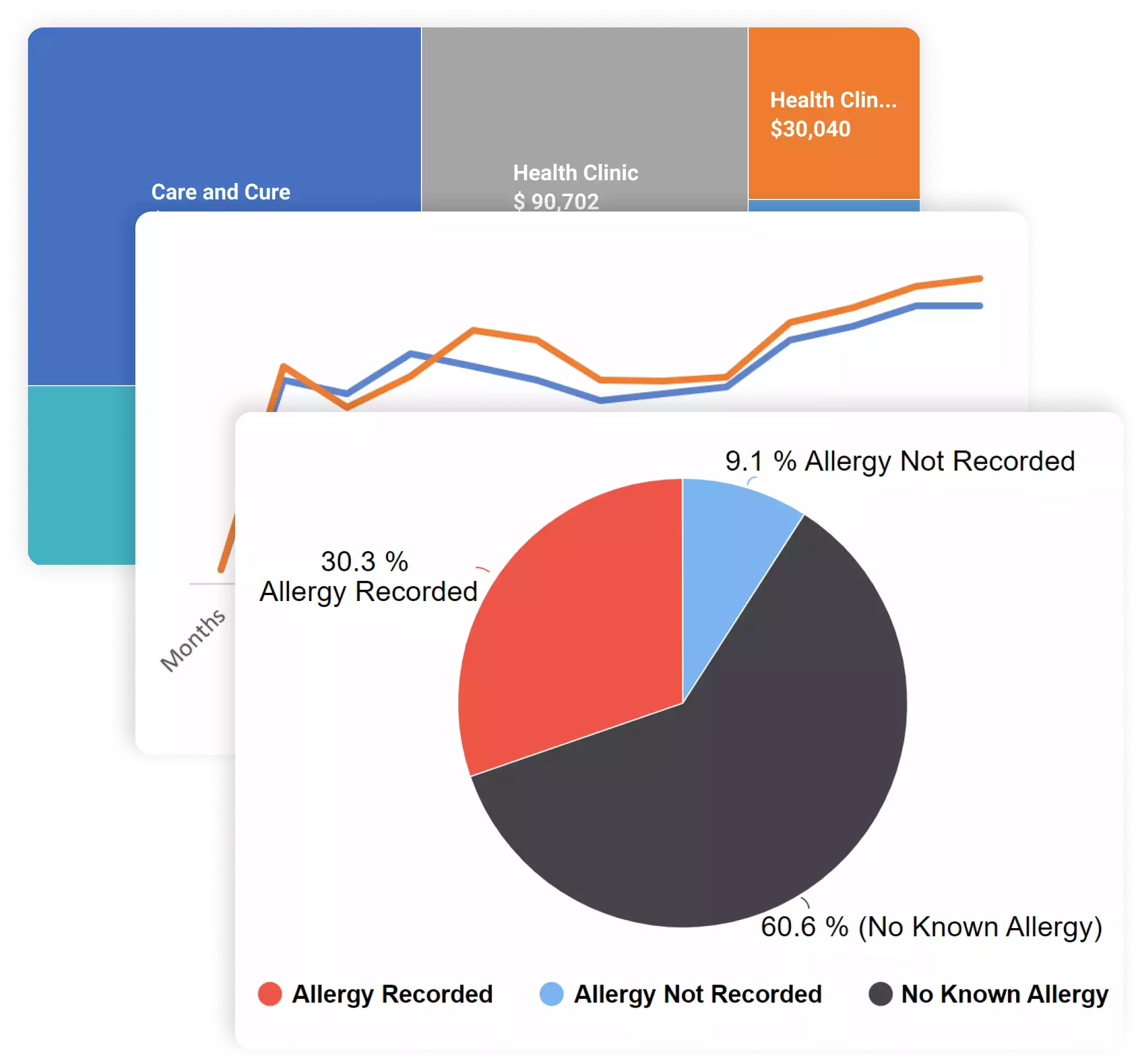 Scheduling
Turbo-charge your front-desk.
Acquire superpowers with all your common functions on a single screen, accessible with 1-click. Check client summary, membership plan, rebook or reschedule, sell a new package, bill for services, you name it, all in a click.
Spot the no. of initial consults with new patients against the follow-ups with existing ones at a glance.
Helpful prompts to your front-desk to rebook the patient at the time of checkout.
Book appointments against leads too. Conversions take place in the background.
Automated bots can interact with patients to help them confirm or cancel over just SMS.
Learn more about Scheduling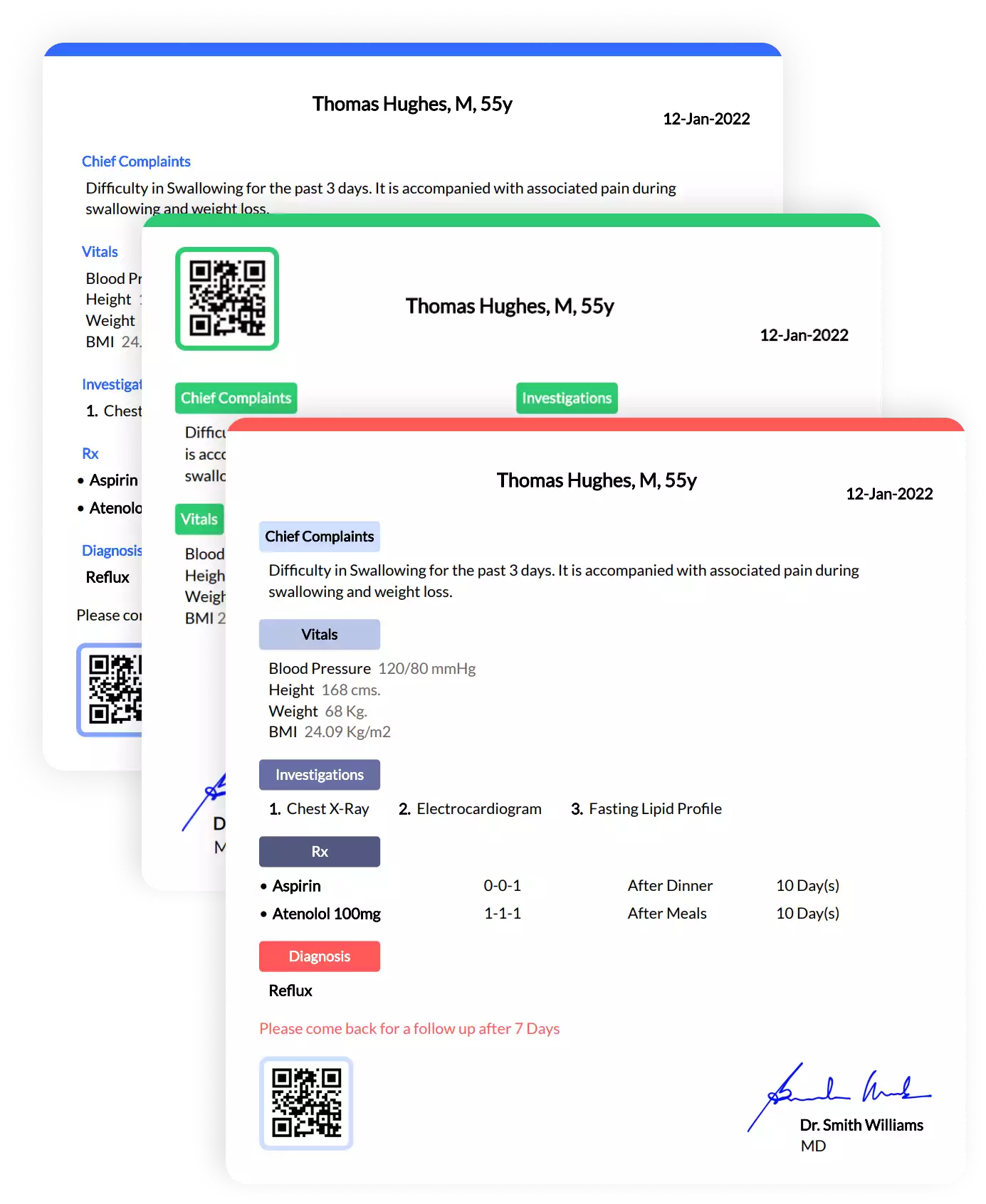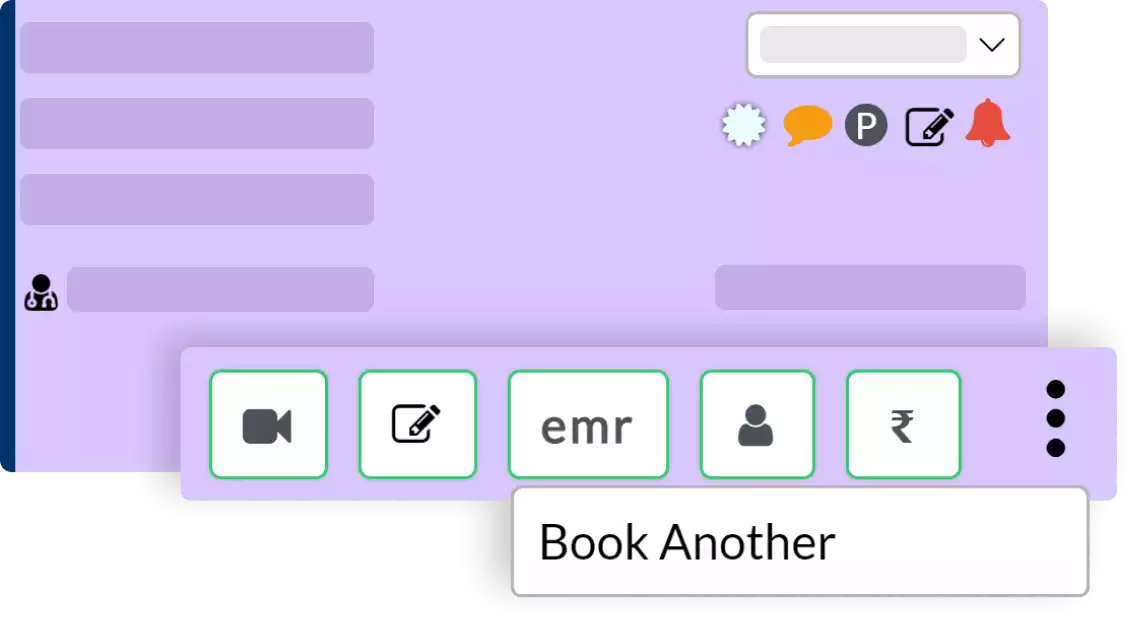 Scheduling
Say no to no-shows.
It does not matter if the front desk marked the appointment as a no-show, or missed out on doing so. Built-in intelligence detects no-shows and reaches out to them to reschedule.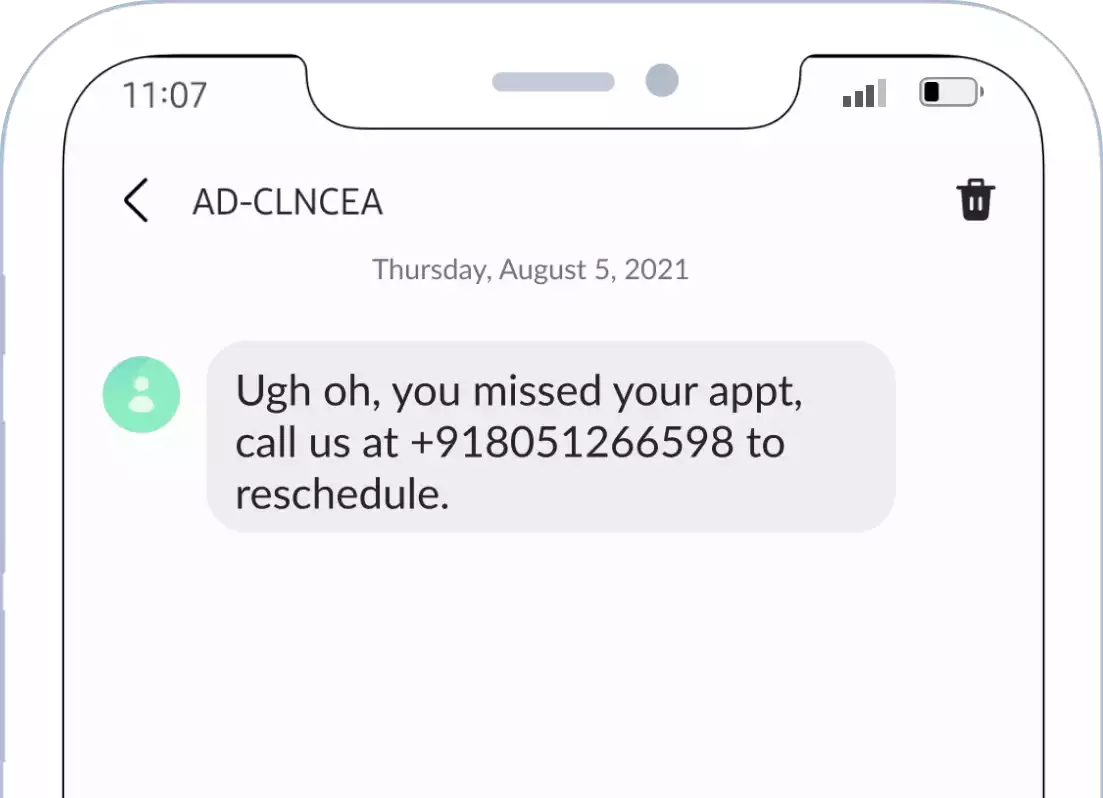 Scheduling
Complete attendance management.
Log check-in and check-out times. See who all are late. Apply for leaves and block dates. Setup rosters by staff role, for weeks or months in advance.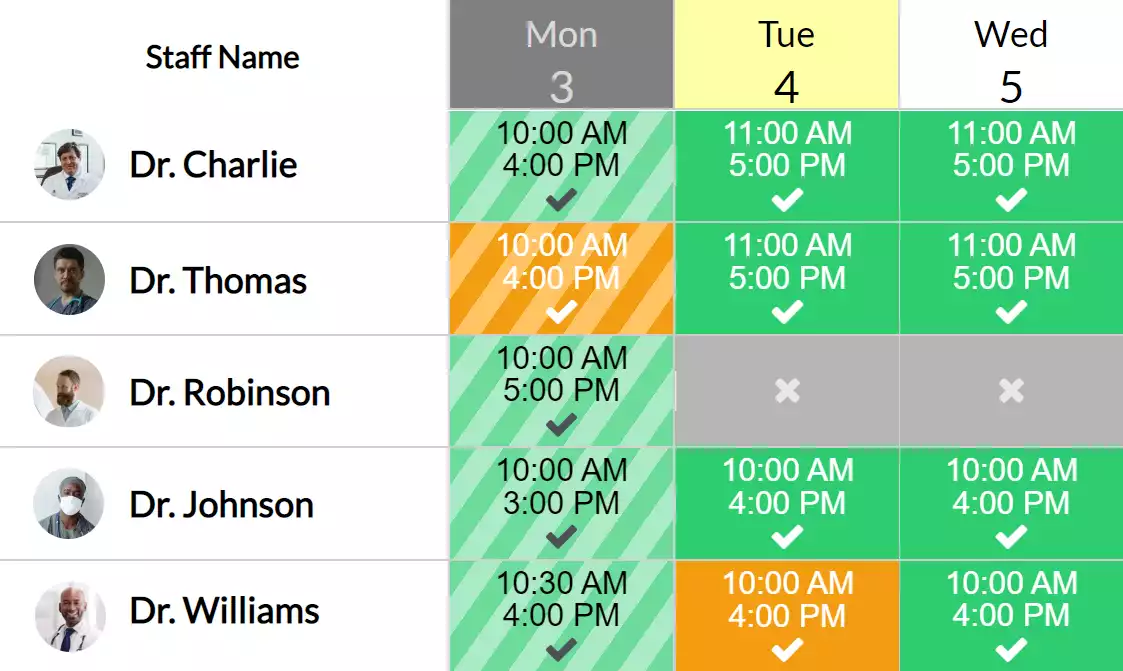 Clinic Engagement
Online Bookings.
Easy scheduling built for Cardiology Clinics who want to build their own brand
Enable online bookings on your existing website. Watch it work 24x7 to fill your schedule.
Syncs with everything, never get double-booked again
Your availability is cross referenced with – 'google calendar', opening and closing hours, public holidays and of course your personal roster (across multiple Cardiology Clinics, if required).
Enable online payments straight to your account
You can opt to charge the patient for the service being booked, or just pre-authorise the card for later use.
Learn more about Online Bookings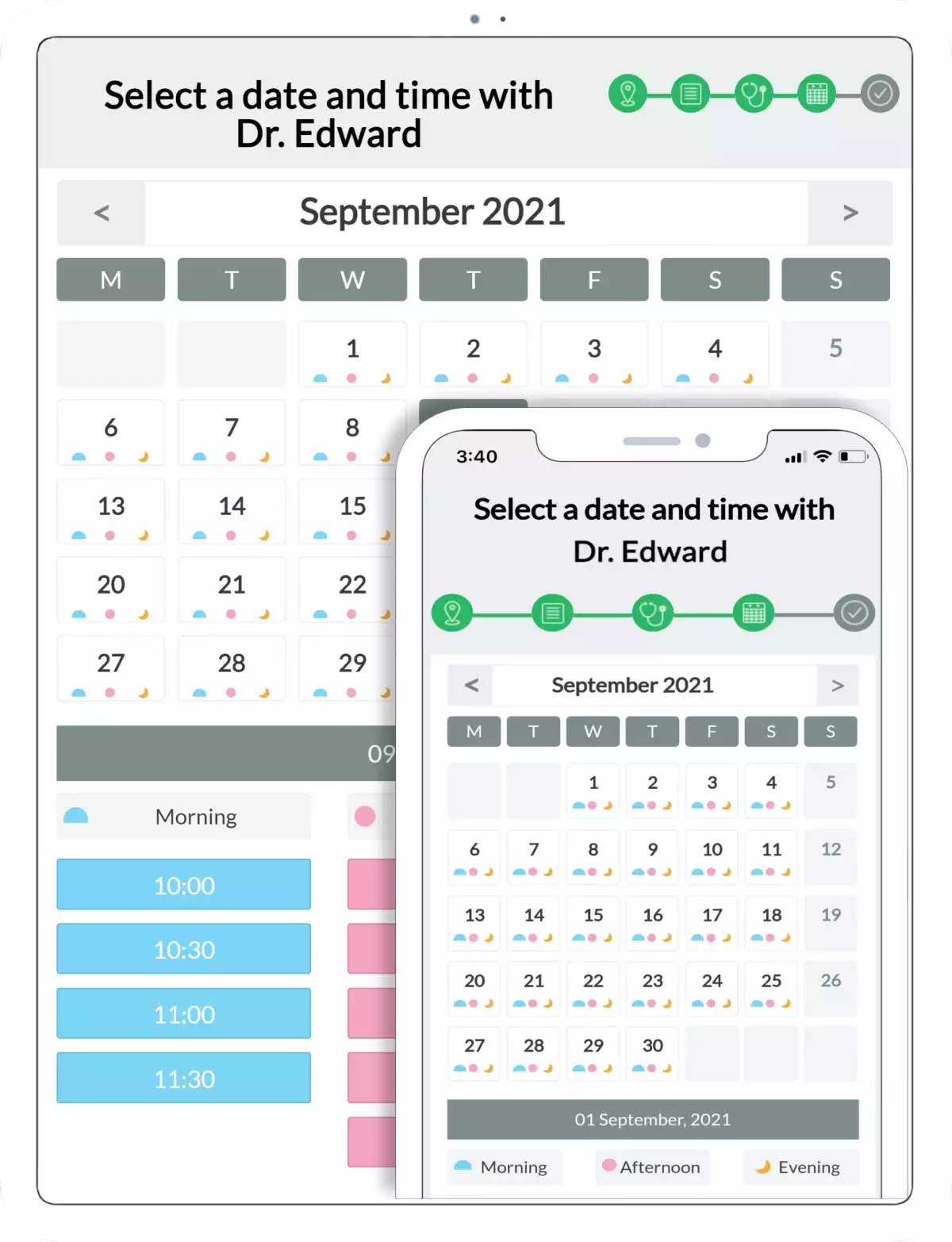 Financials
360-degree Financial Control.
Insurance billing, selling gift cards, offering easy instalment options, managing petty expenses, charging cards through integrated payment gateways, creating deals & offers, viewing detailed transaction statements from patients, vendors and corporates. Everything your Cardiology Clinic needs today and will need tomorrow, as you grow.
1-click integrated billing.
Flexibility to 'Bill To' Patient, family-head, corporate or insurance.
Feed in insurance agreements & policies for auto splitting.
Offer Points, Rewards, Promotions.
Issue quotations and convert to bill
Pay-out incentives and commissions to staff.
Learn more about Financials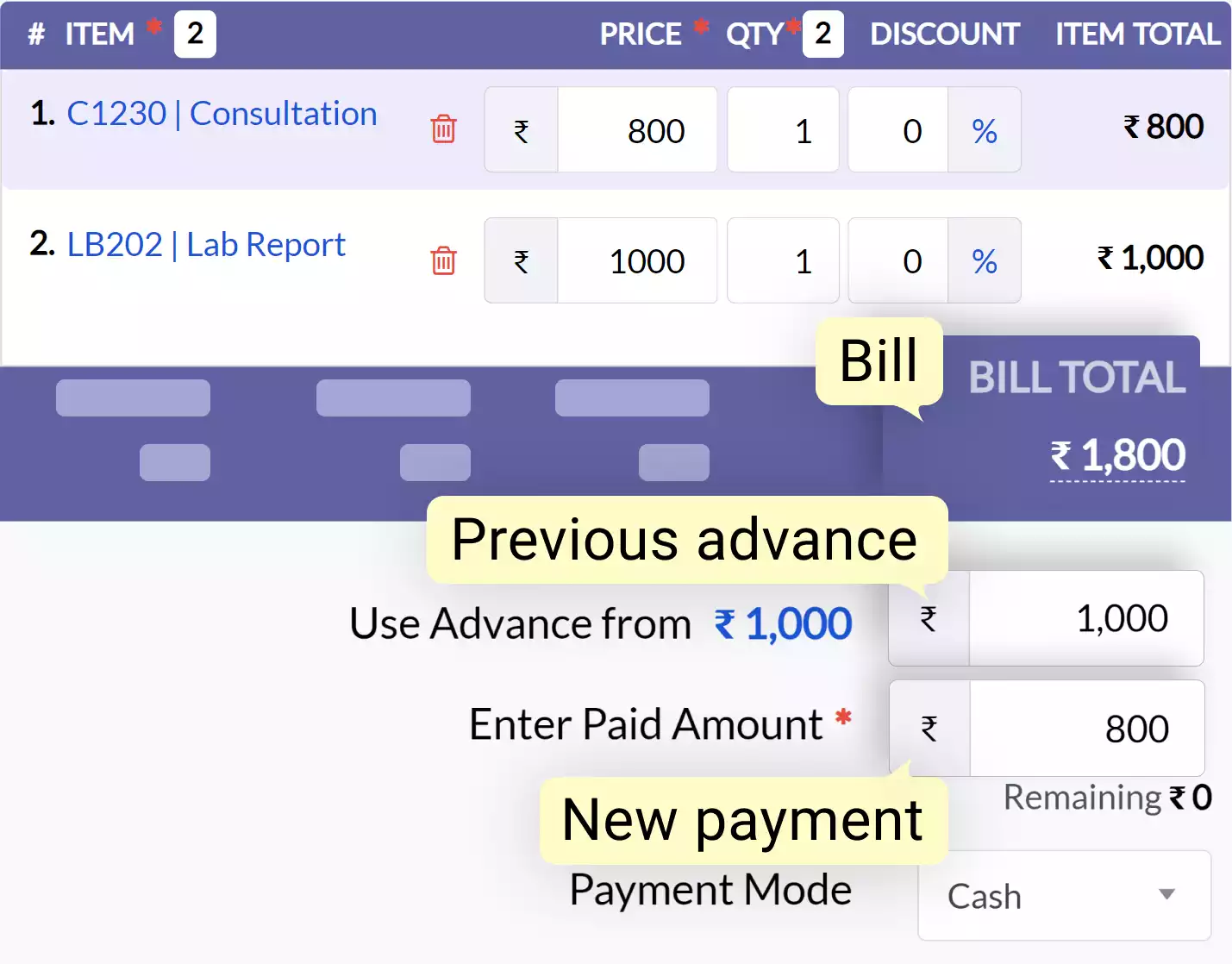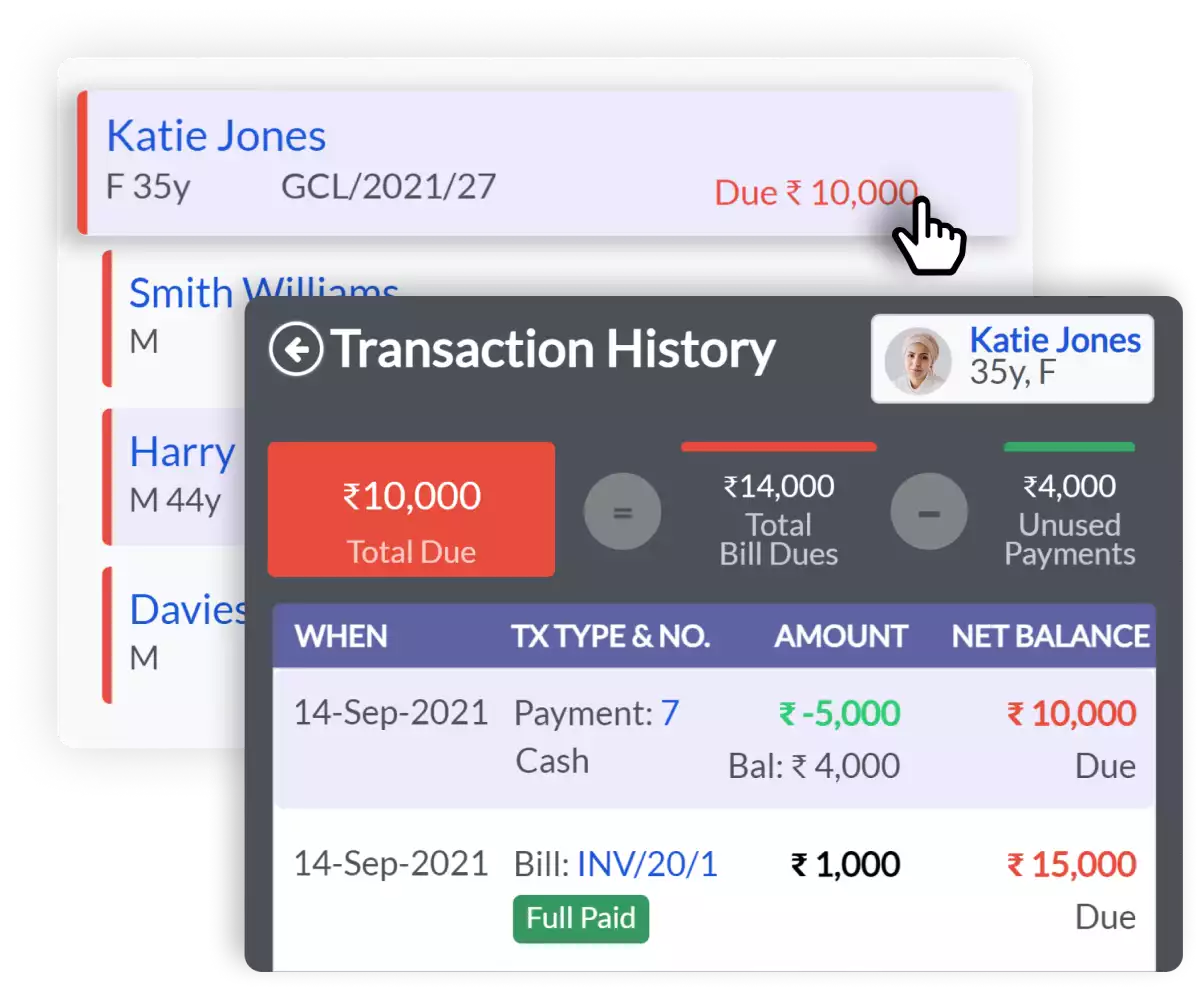 Packages
Sell more Packages. Do it easily.
Used by some of the largest Cardiology Clinics in the world, selling, tracking, & managing packages has never been easier.
Services and products can be combined on the fly to sell custom packages.
Create the package you want, at the price which will 'sell easy'. Just edit the final price to end it in 9's e.g., 2,999. Discount and taxes get auto-computed for you.
See the number of sessions completed, and what's left. Drill down for details. Audit is just 1-click.
Start easy instalments for payment of packages. Tailor it as per package price.
Learn more about Packages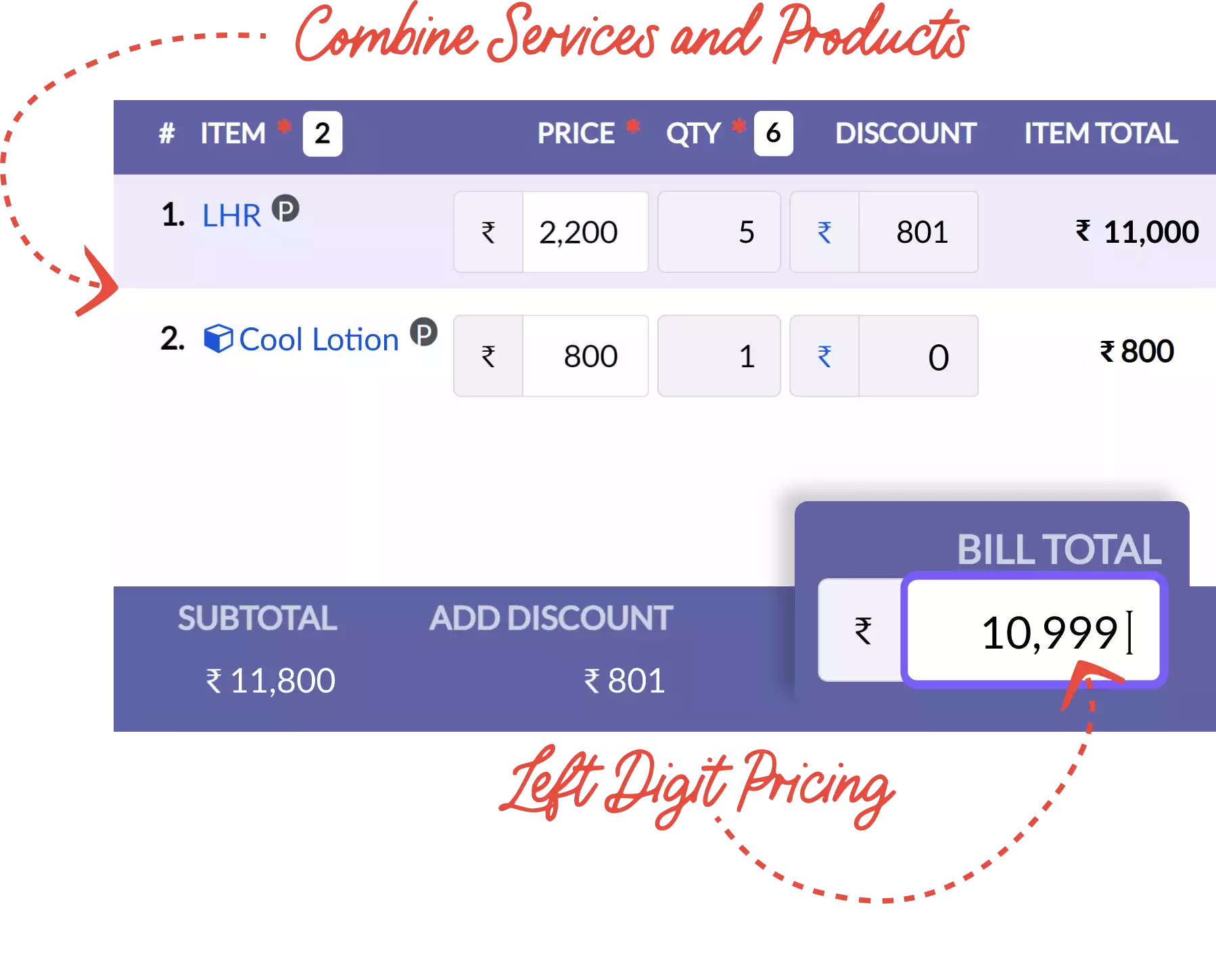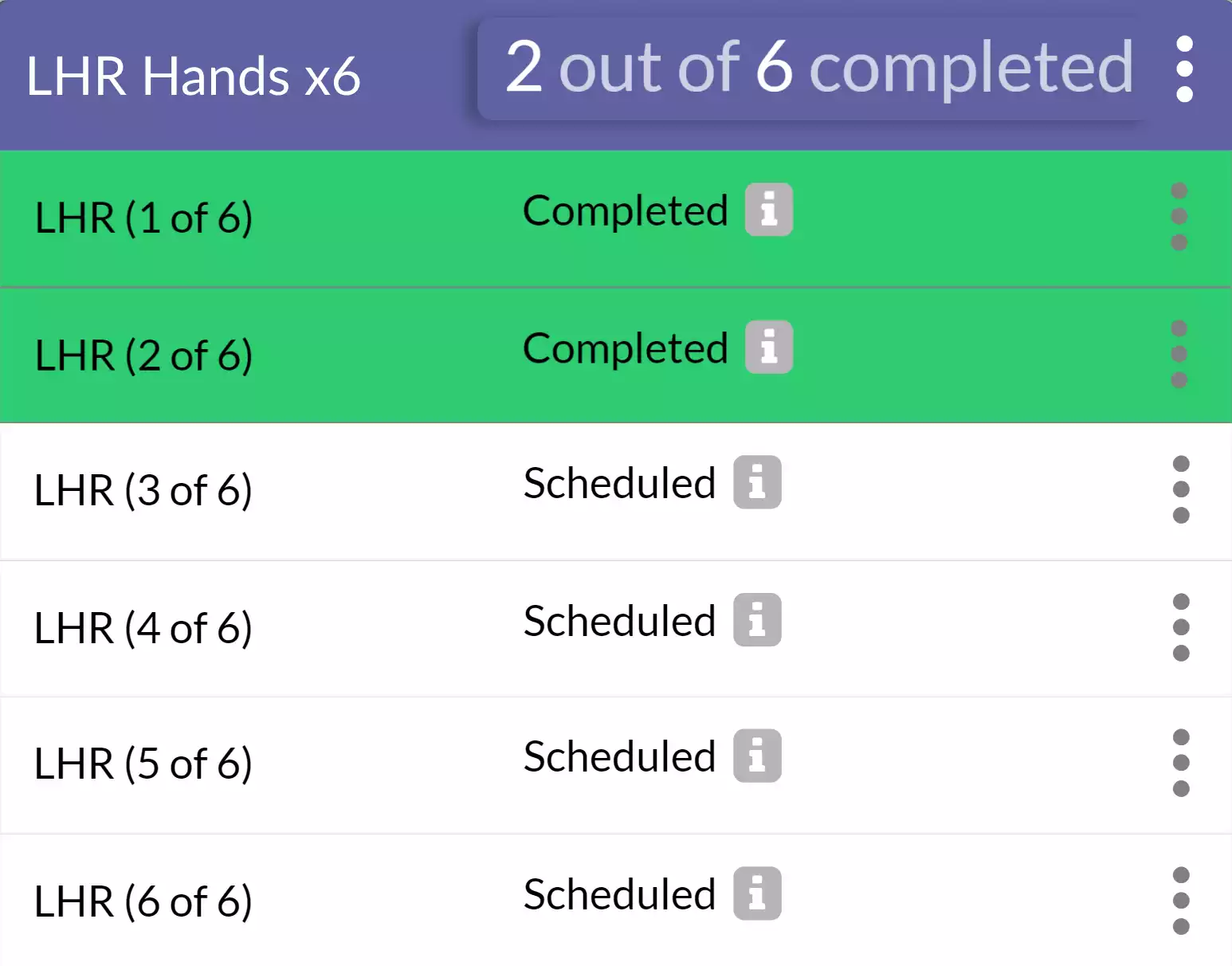 Financials
Treatment Plans with Estimates.
You can create custom treatment plans, and share your recommendation along with estimates. Product Counsellors can then sit with the patient, to explain the benefits and issue quotations. Easy instalments can be offered as part of the payment terms and attached to the treatment plan. Once everyone is good to go, activate it. In 1-click assign the package, convert quotation into a bill, setup a payment schedule, create appointments, and update the treatment plan status.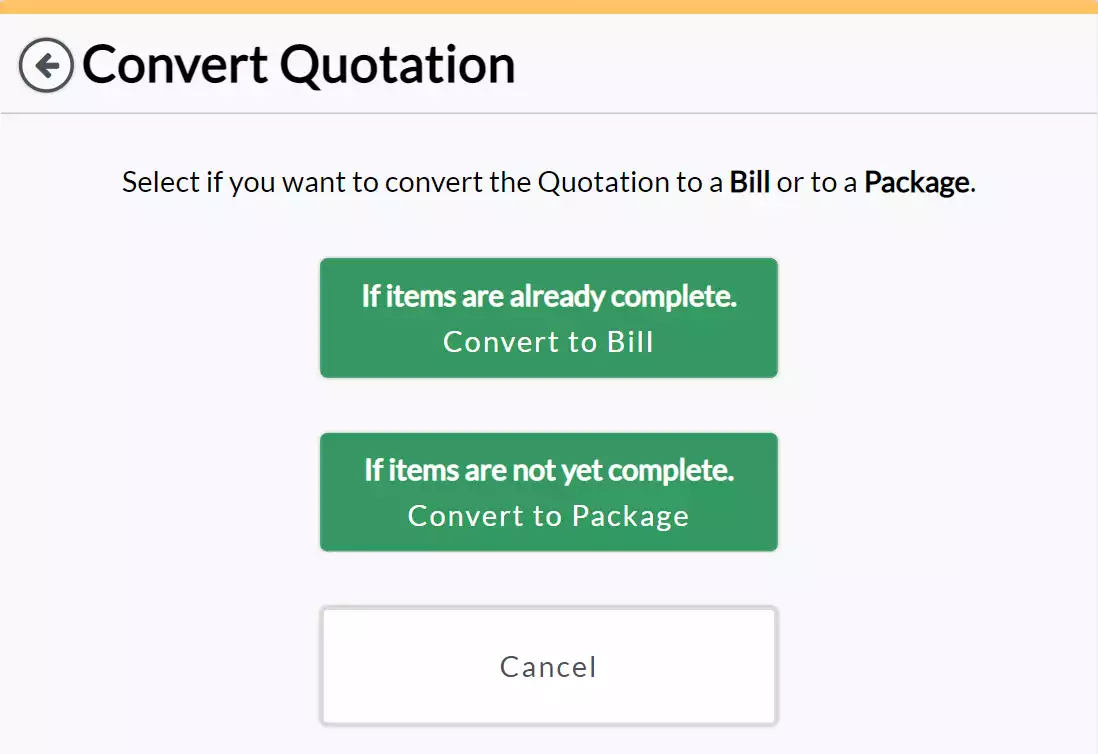 Lab
Not a single Result will ever fall into a crack again.
Paperless management, seamless integration with EMR, 2-step review process, automated follow-ups and more. Get everyone to become experts in best practises to run your in-house Lab.
Bar-coded sample collection.
Handles both Pathology as well as radiology, with image support
Easy routing support for outsourcing to external Labs
Full support for Medical Coding
Dedicated results Inbox for Practitioners to sign-off on results
Automated Nurse follow-up tasks created for adverse results
Fully integrated with investigation ordering in EMR.
Learn more about Lab Management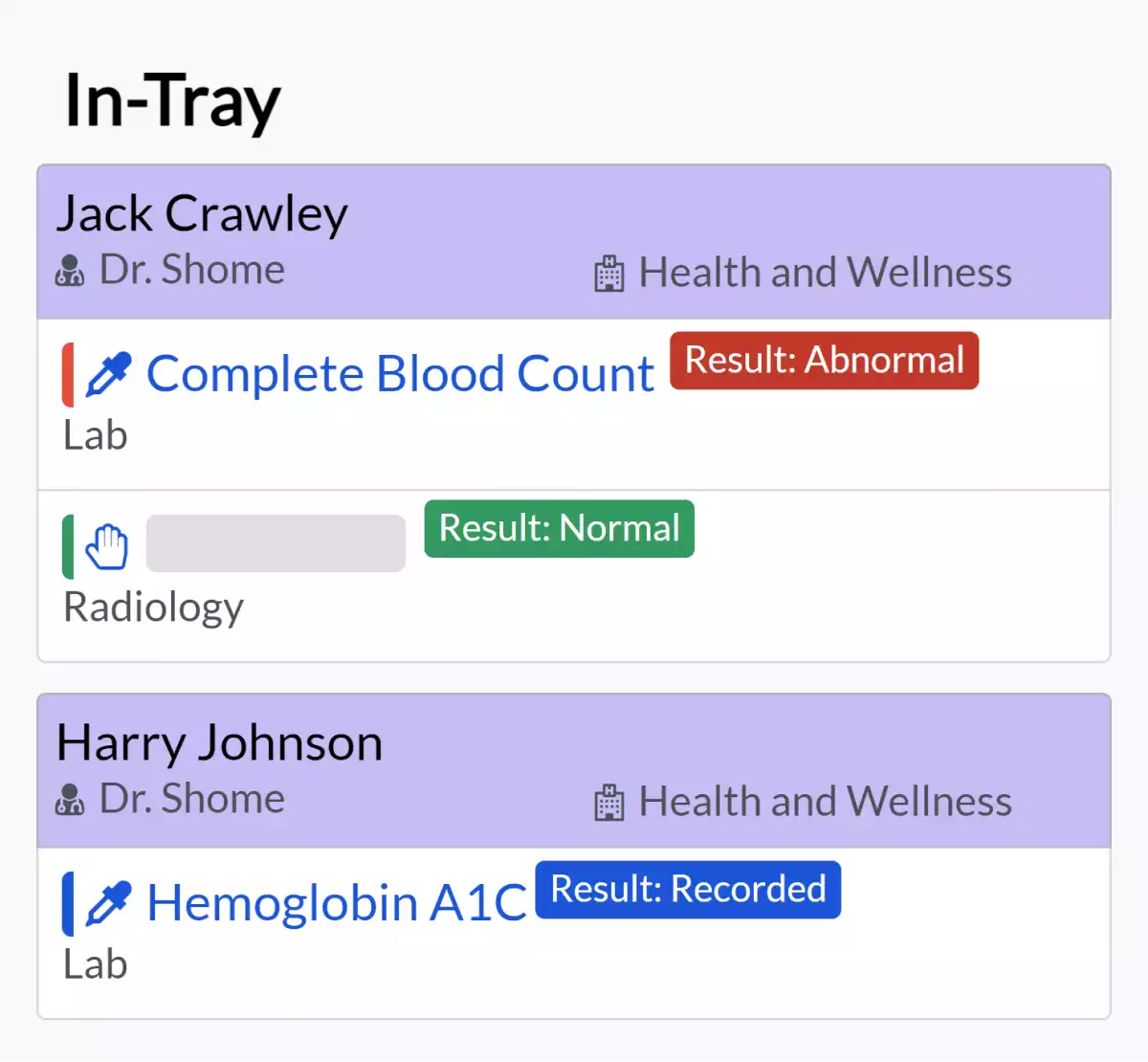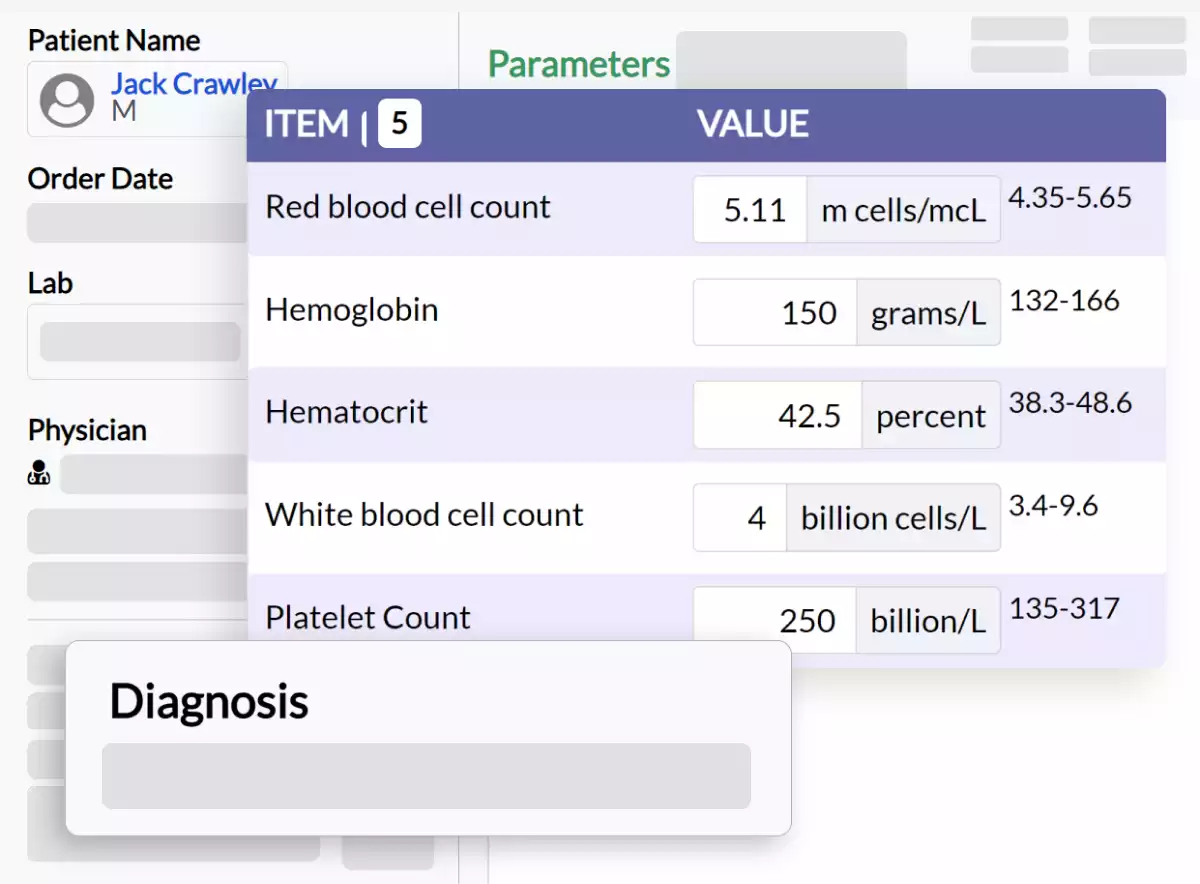 Pharmacy
Flawless In-House Pharmacy management.
Once you have issued a prescription in the EMR, your Pharmacy receives a copy in real-time on their screens. The pharmacist can now generate a bill, auto-reduce inventory by stock sold, and fill in the prescription - all of this in 1-single click
Comes with all the tools needed for inventory management:
Add inventory products quickly, or simply upload it via excel.
Use barcode scanners for inventory management.
Run stock takes and track variance.
Comes fully integrated with the Loyalty and reward Program for Patients.
Learn more about Pharmacy & Inventory Management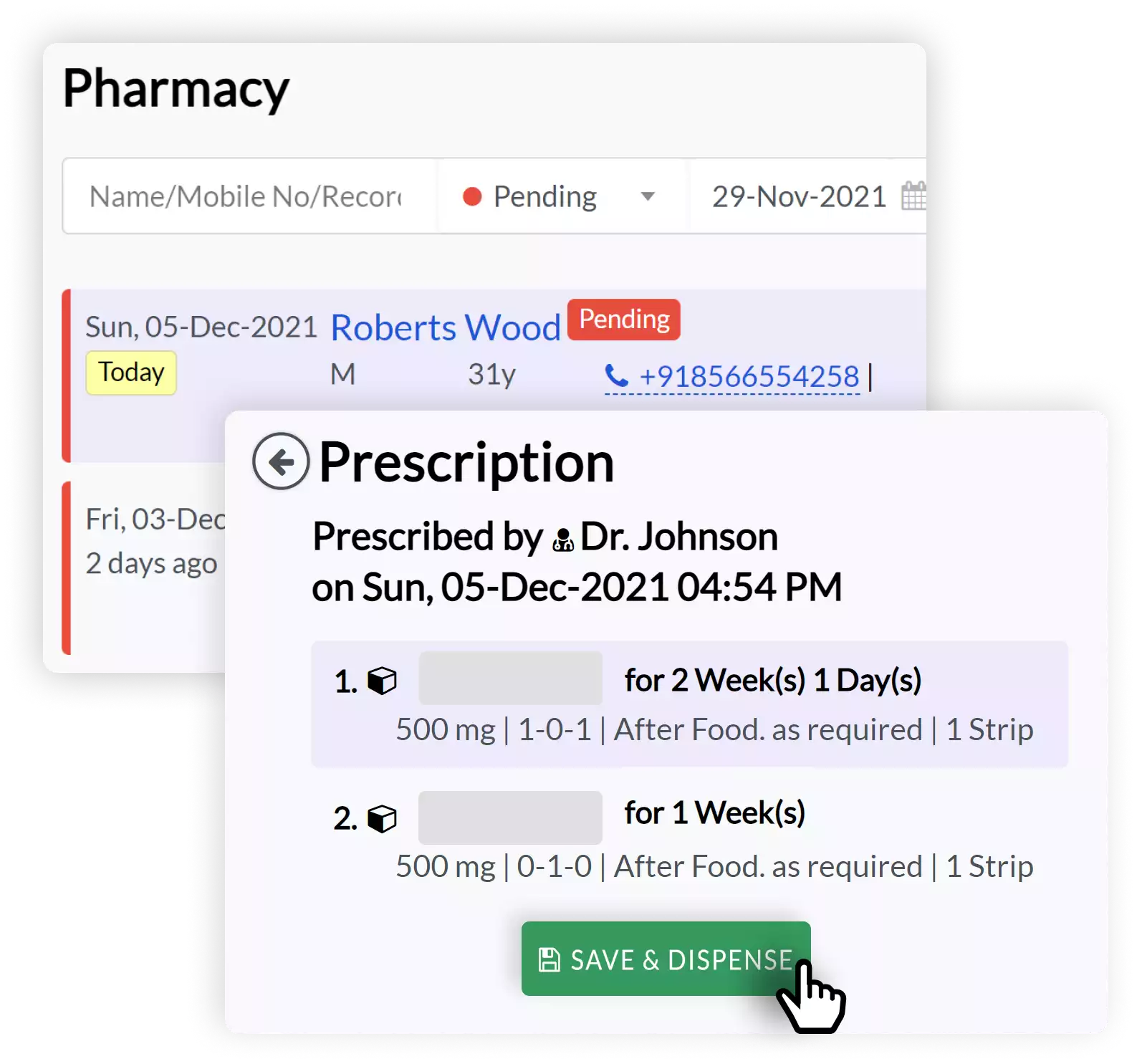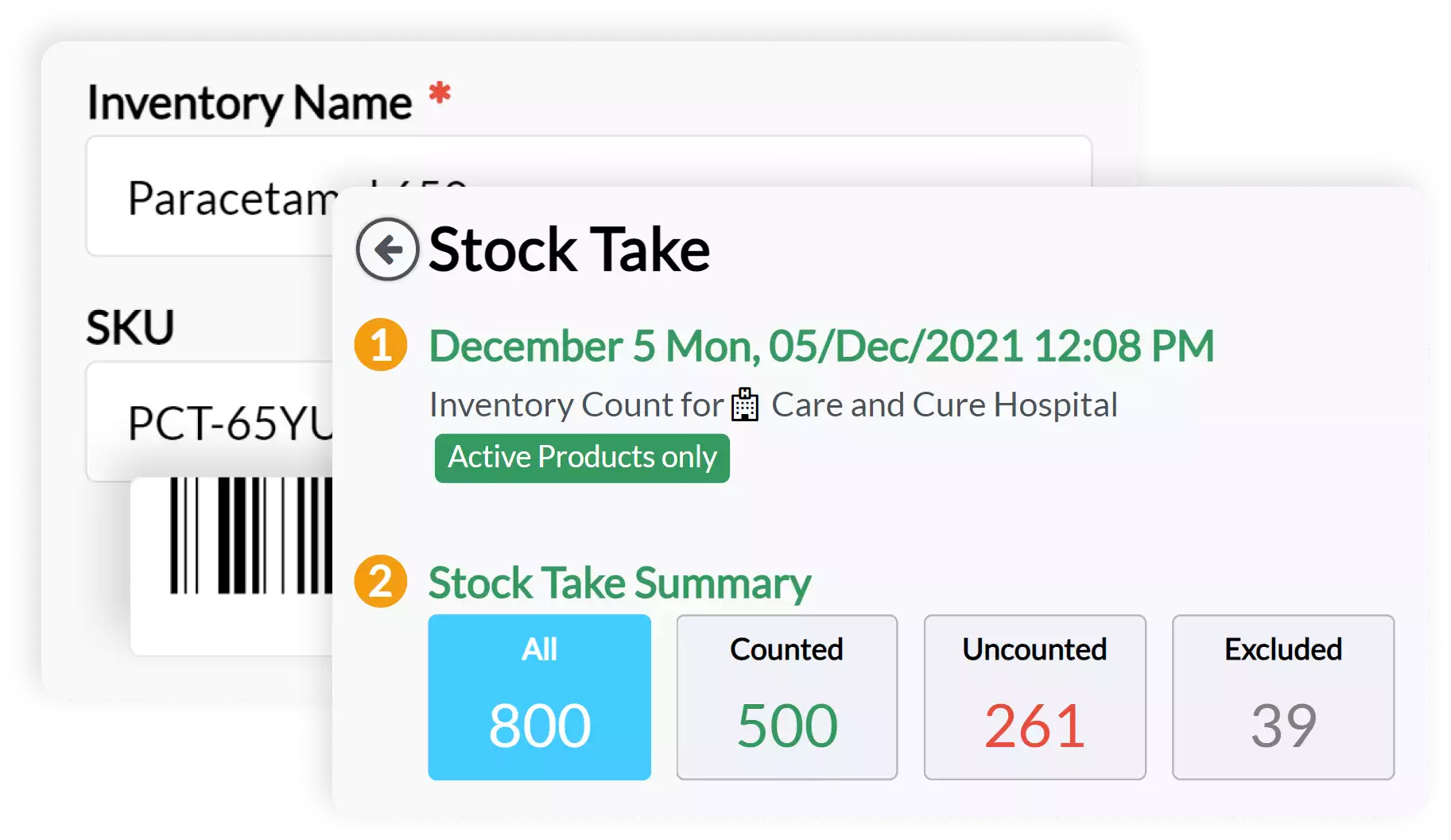 Clinic Engagement
The next-gen Patient Portal.
Curofic is a 24x7 patient portal platform built for Cardiology Clinics. A lot of attention has been put in making Curofic easy and intuitive. Stunning design, big buttons, simple navigation, support for all devices, 1 click access to commonly used features and more.
You on how much data you want to share in your Patient Portal.
Patients get to access all of their health records in .
Access to can be enabled under a single secure login.
Portal comes equipped with Video Calls, Virtual Assistant, Feedback Collector, Online Booking and more.
Learn more about Patient Portal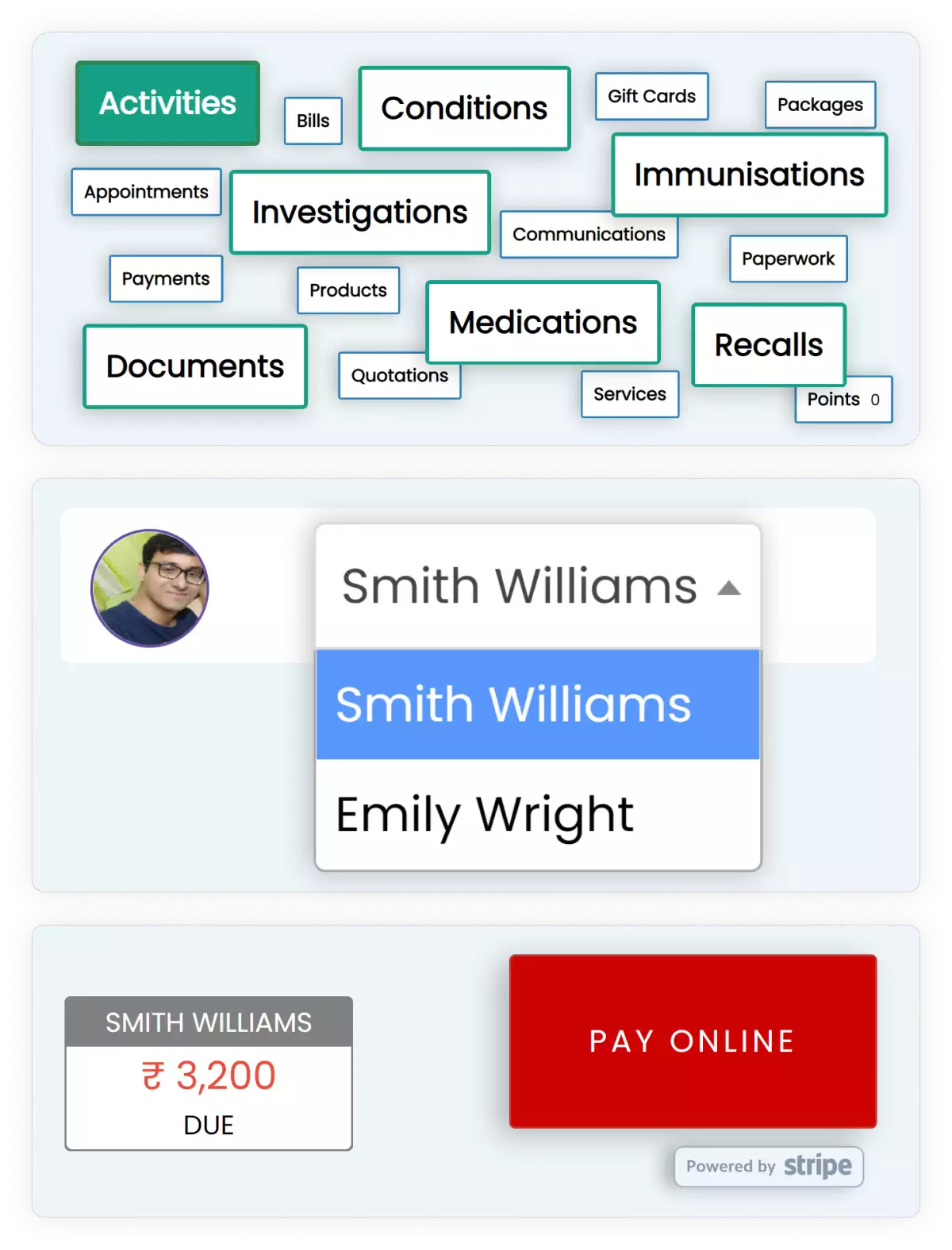 Clinic Engagement
Online Access to everything.
Empower your patients with new age tools. Switch on access to online lab results, digital prescription, online package tracking, QR code driven online bills, integrated payment options, access to health records for self or the entire family. Switch to Clinicea and build your brand as the cutting-edge Cardiology Clinic you deserve to be known as.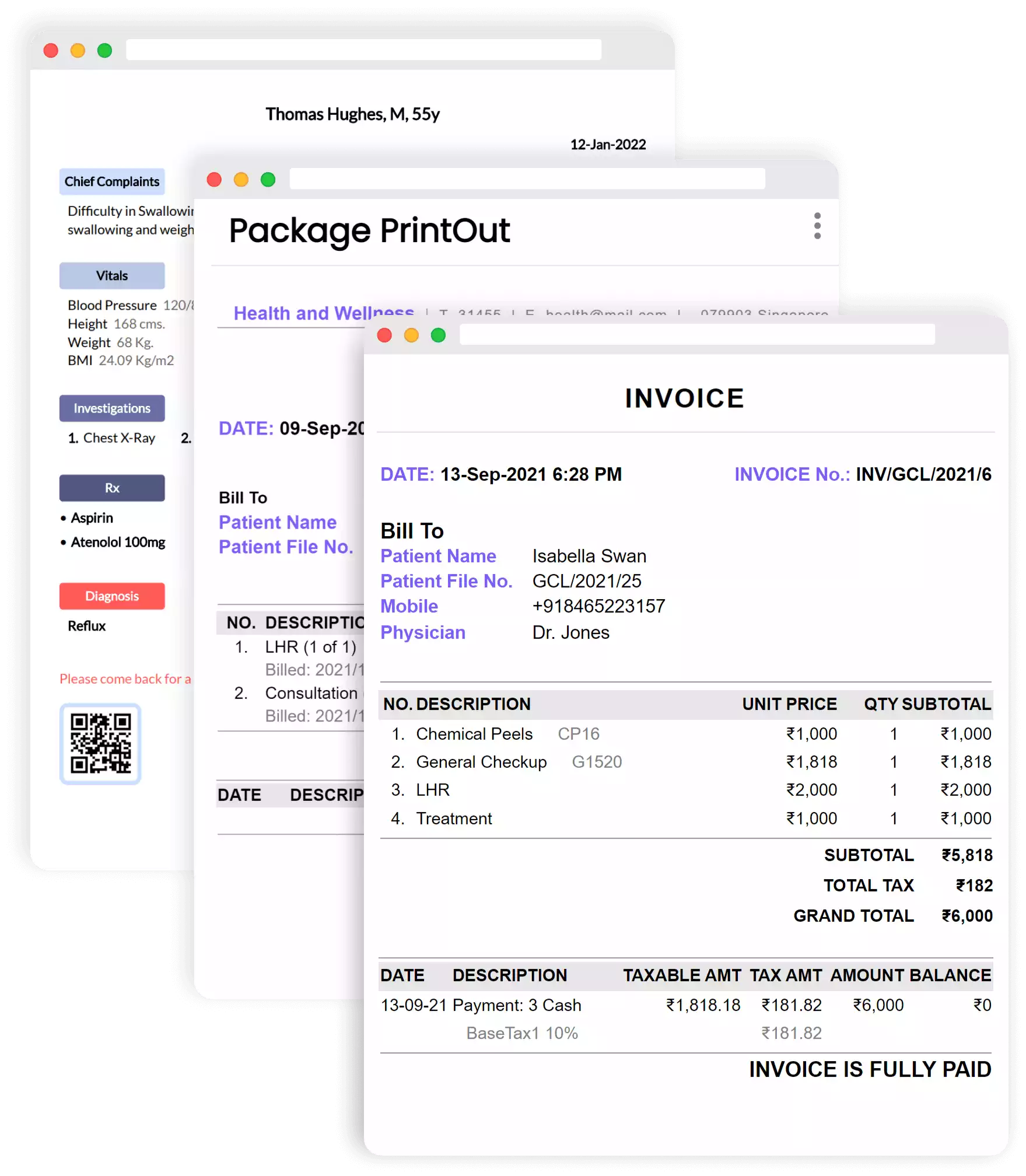 Clinic Engagement
Deploy Smart Virtual Assistants.
Eliminate crowded waiting rooms. Reduce burden from the front desk. Let patients fill up the correct paperwork from the convenience of their homes. Just deploy a Smart Virtual Assistant for your Cardiology Clinic.
Switch on smart-detection and watch the virtual assistant take over all questionnaire and consent requirements of your Cardiology Clinic.
Collect pre-procedure e-consents, finalize package contracts, payment term agreements and more – all remotely.
Access paperwork and consents via the patient portal, EMR, or just via links in emails and SMS.
Learn more about Paperwork & Virtual Assistant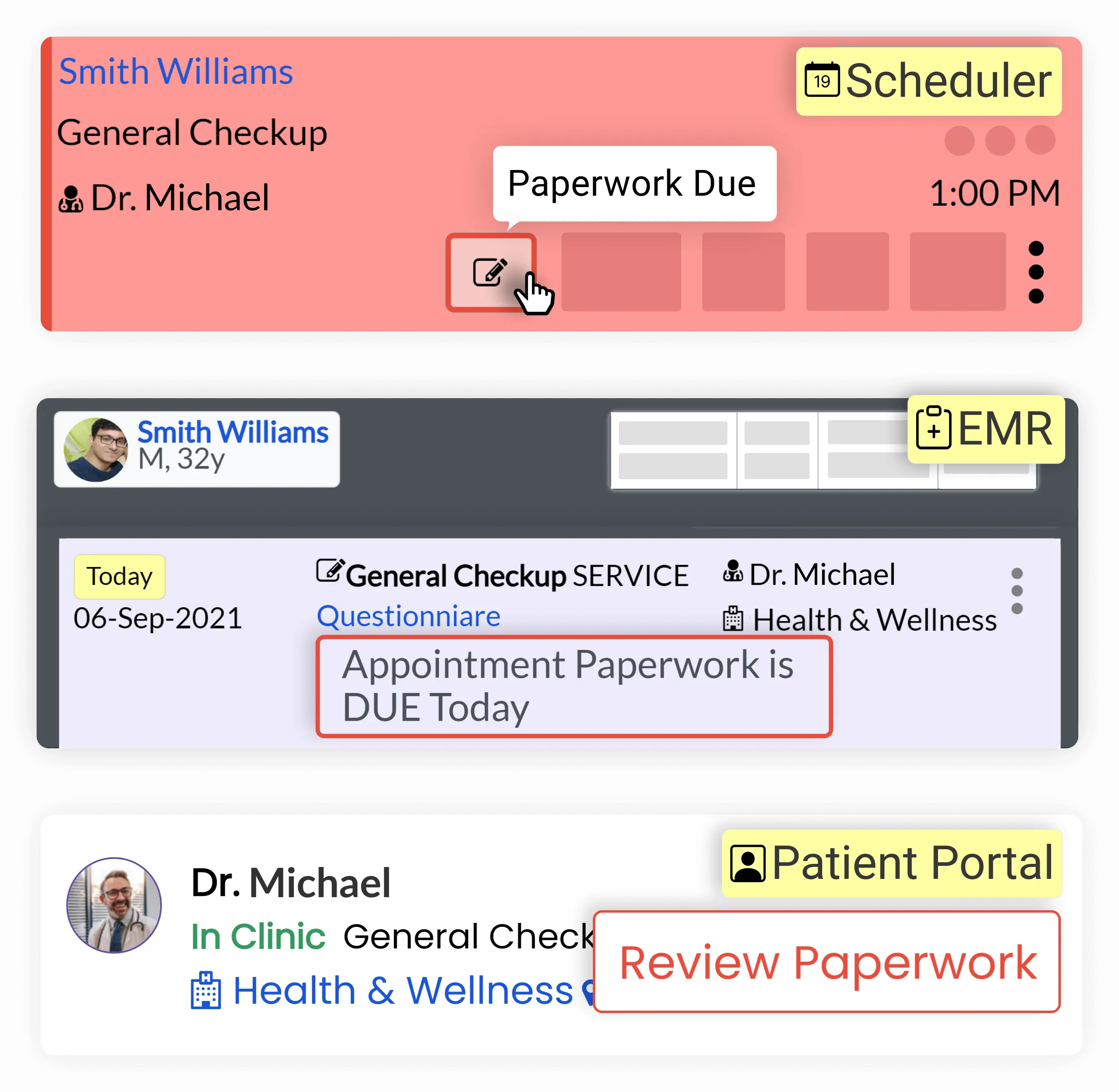 Clinic Engagement
Build your online reputation on your terms.
Automate follow-up with patients. Collect feedback and build your Cardiology Clinic's online brand. Delight them with free points when they share feedback. Act on those that matter, share the ones you like. Do it on your own website, so you retain complete control.
Keep It Super Simple. No lengthy forms or tedious checklists.
Patients can share feedback from the patient portal, from an e-mail or simply through an SMS link.
Delight your patients further by offering free points on every feedback.
You can setup a crack internal team that gets notified on every negative feedback to reach out and resolve issues immediately.
Learn more about Online Feedback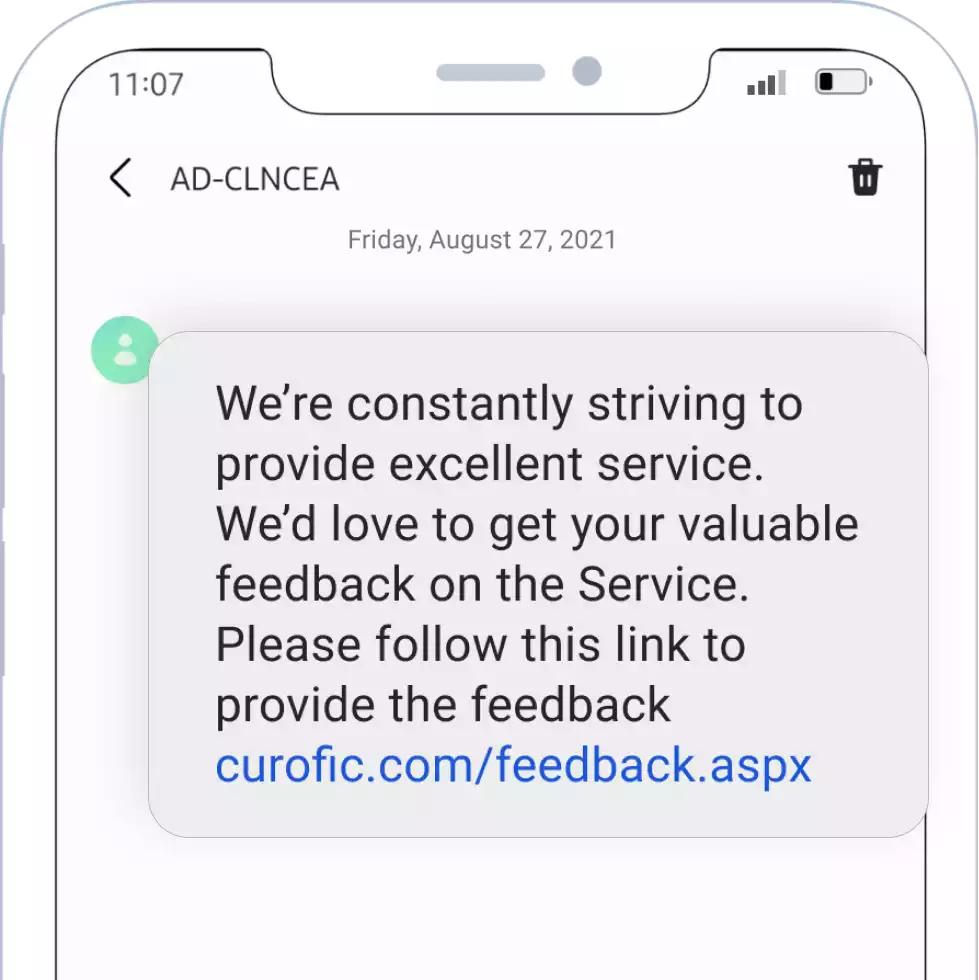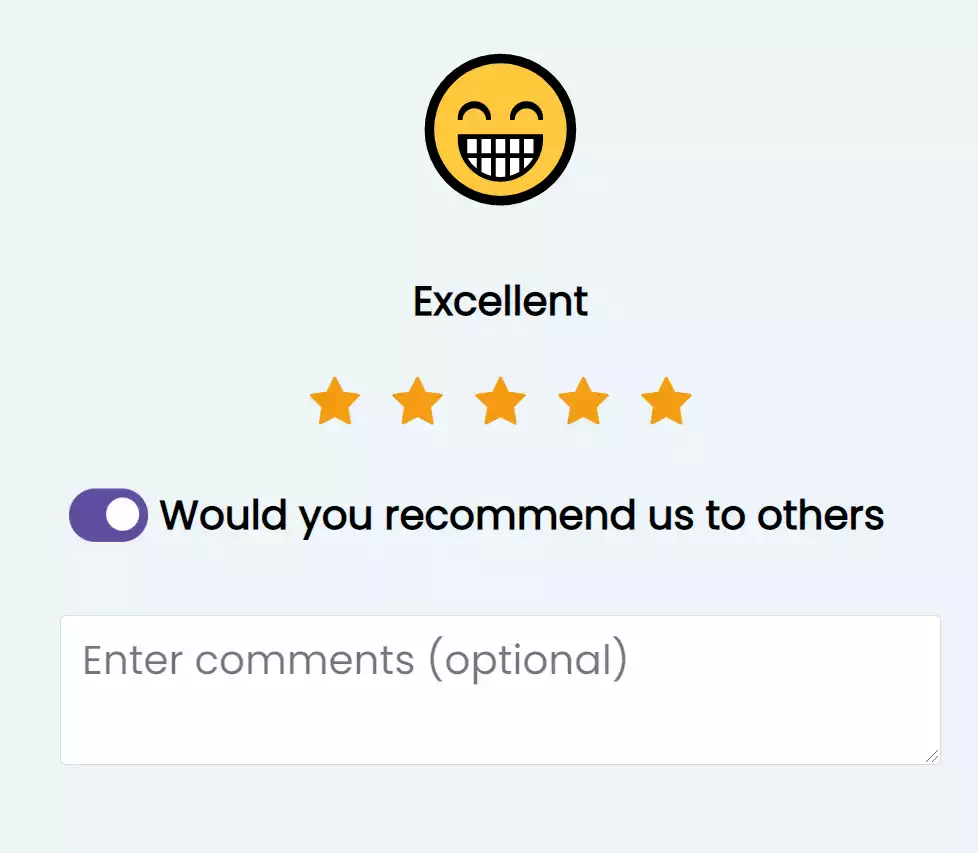 Marketing
Convert leads to patients.
A CRM has a ton of features. Most however are not applicable for a clinic – due to regulation and the very nature of medical business. Such CRM systems come with a high learning curve and you pay more as well, for things you will never use.
This is why we built a Medical CRM inside Clinicea. We know your requirements well, and built just that. So, you get exactly what your clinic needs, without the extra complexity or cost. X-ray in to see the health of your marketing database with the funnel view. Target specific segments with tailor-made marketing campaigns. All the tools you need, to grow your Cardiology Clinic.
Motivate existing patients with a
Encourage walk-ins with a
Retain better with the
Create promo codes to target slow moving services, products or idle days of the week.
Learn more about Growth Program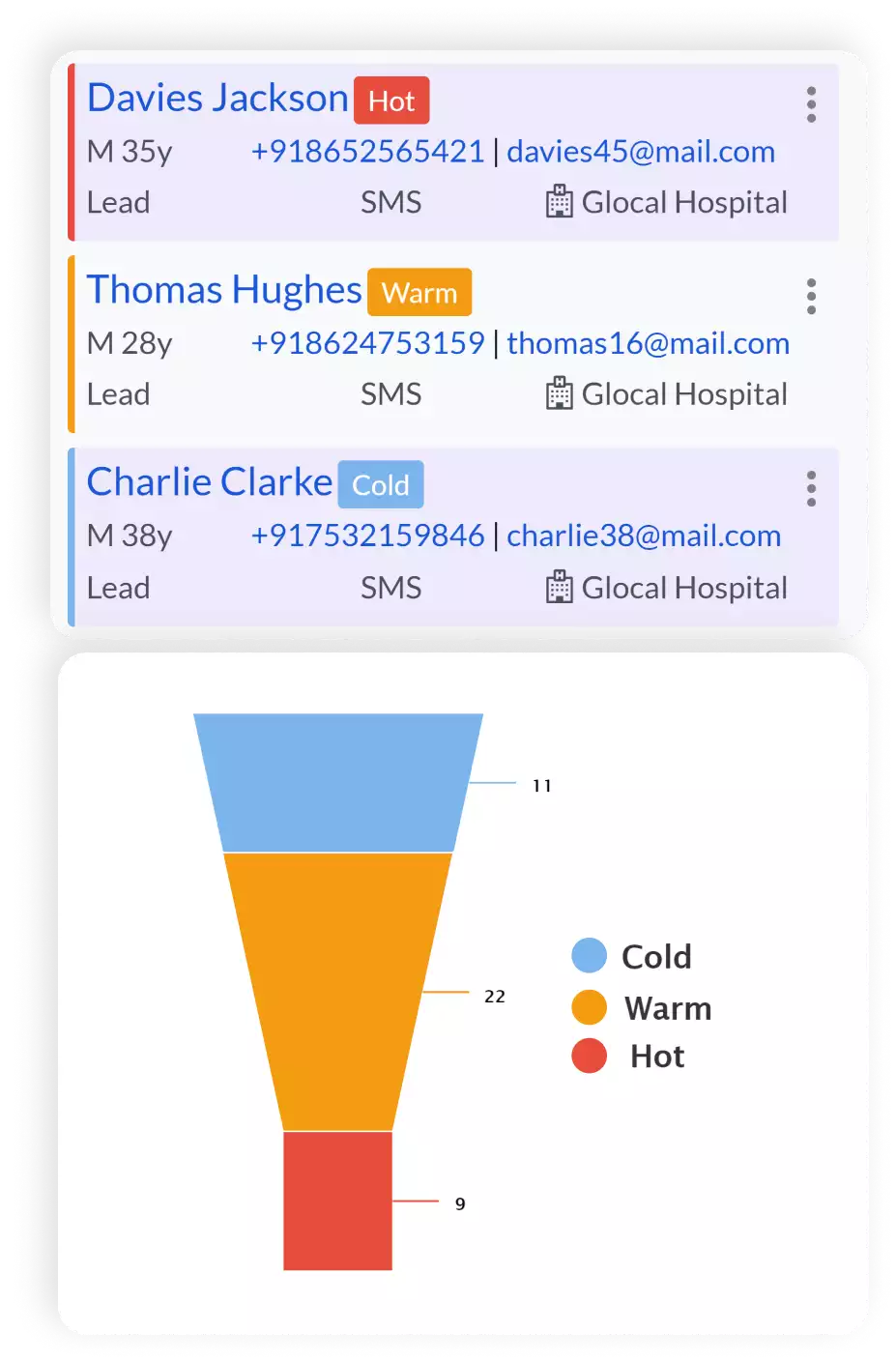 Marketing
Contact Centre platform built for Cardiology Clinics.
Ensure every inquiry is followed up, every query answered. Bring back inactive Patients, cut-down no-shows. Log every incoming and outgoing call.
2-way SMS
Patients and leads can contact you over SMS. Include pictures in their messages – to explain a condition or to get a quote. Such messages go straight inside your centralised CallBox for quick replies. *Works in 46 supported countries only.
Make and receive calls off the browser
You don't need a phone. Just click on a lead's phone number to get connected. All calls get recorded for better training and feedback. *Requires a Cloud Telephony provider account.
Learn more about CallBox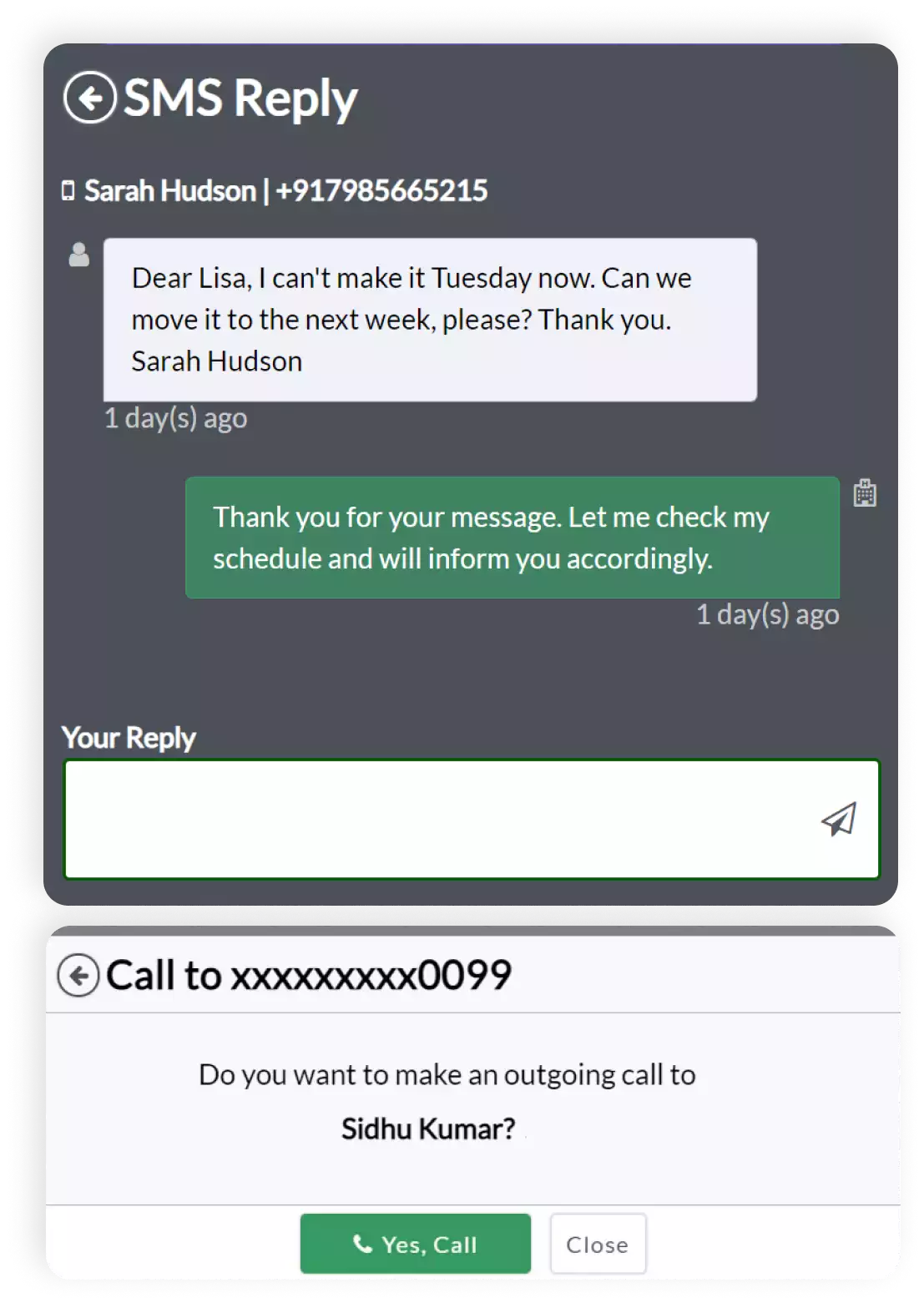 Analytics
Run your Cardiology Clinic, not reports.
We love jazzy looking dashboards, but we struggle when it comes to understanding all of it. This is why we built a tool that gives you quick insights about your Cardiology Clinic, in plain simple English.
"Which are my bestsellers?
Which cities are bringing in bulk of my revenues?
Who are my top 3 practitioners?
Which clinics are the top contributor to profits?
Which are the slowest days of the week?"

There's a lot more.
Learn more about Reporting & Analytics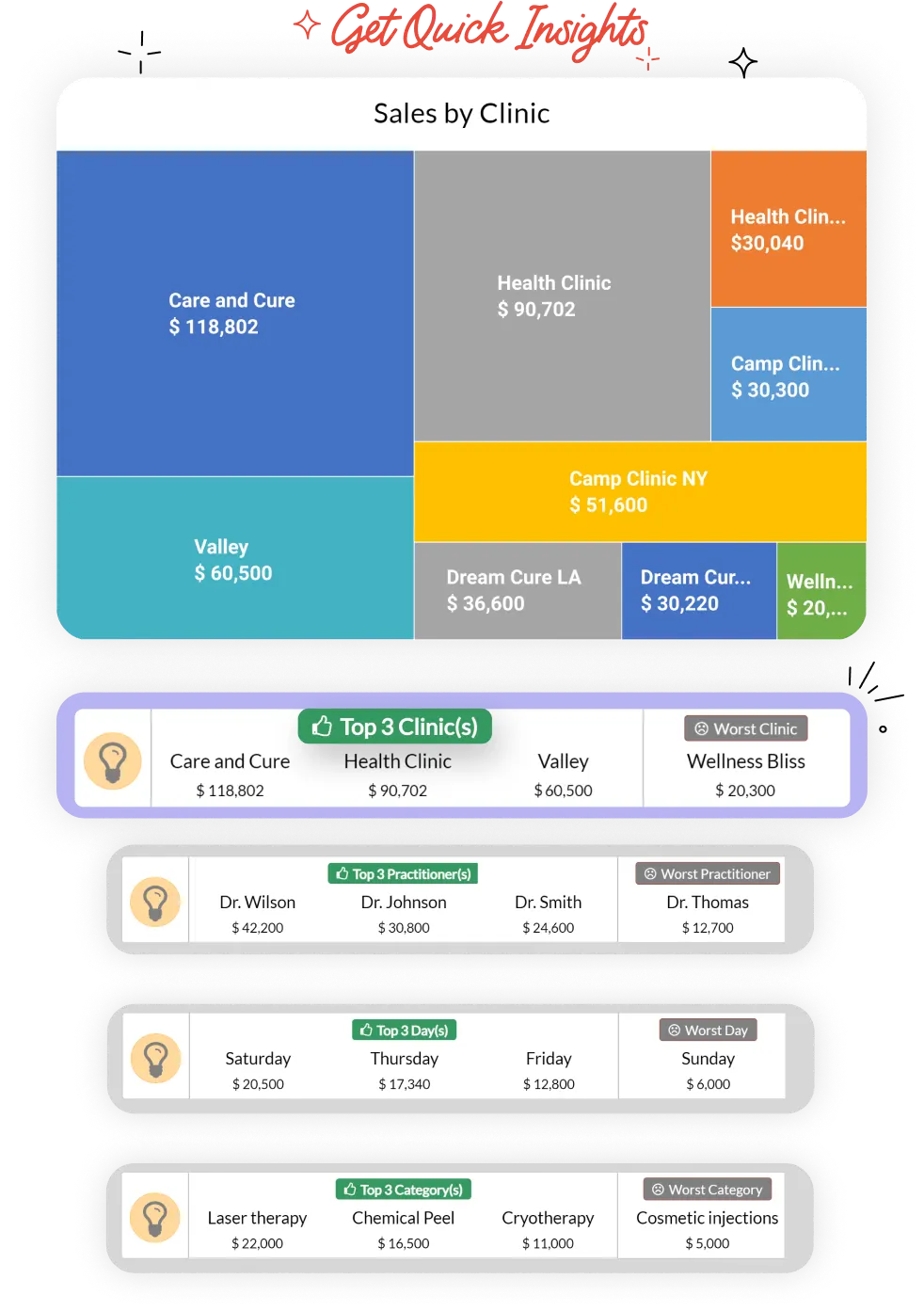 More
Completely Integrated with API's.
Data islands are remnants of a bygone era. New age Cardiology Clinic management systems are inter-connected, and interoperable. API's access is not a feature, it's a must. Clinicea platform comes fully integrated with Google Maps, Google Calendar, Instagram, Facebook, Outlook, Apple Calendar, RazorPay, Stripe, Paypal, Flutterwave, Twilio, Plivo, Mailchimp, SuperReceptionist, Curofic Feedback, Bluewaves, SMSGlobal, Virtual Queue Systems, Curofic Patient Portal and more. The list is ever growing as our developers are hard at work to build the most powerful Cardiology Clinic management system, ever.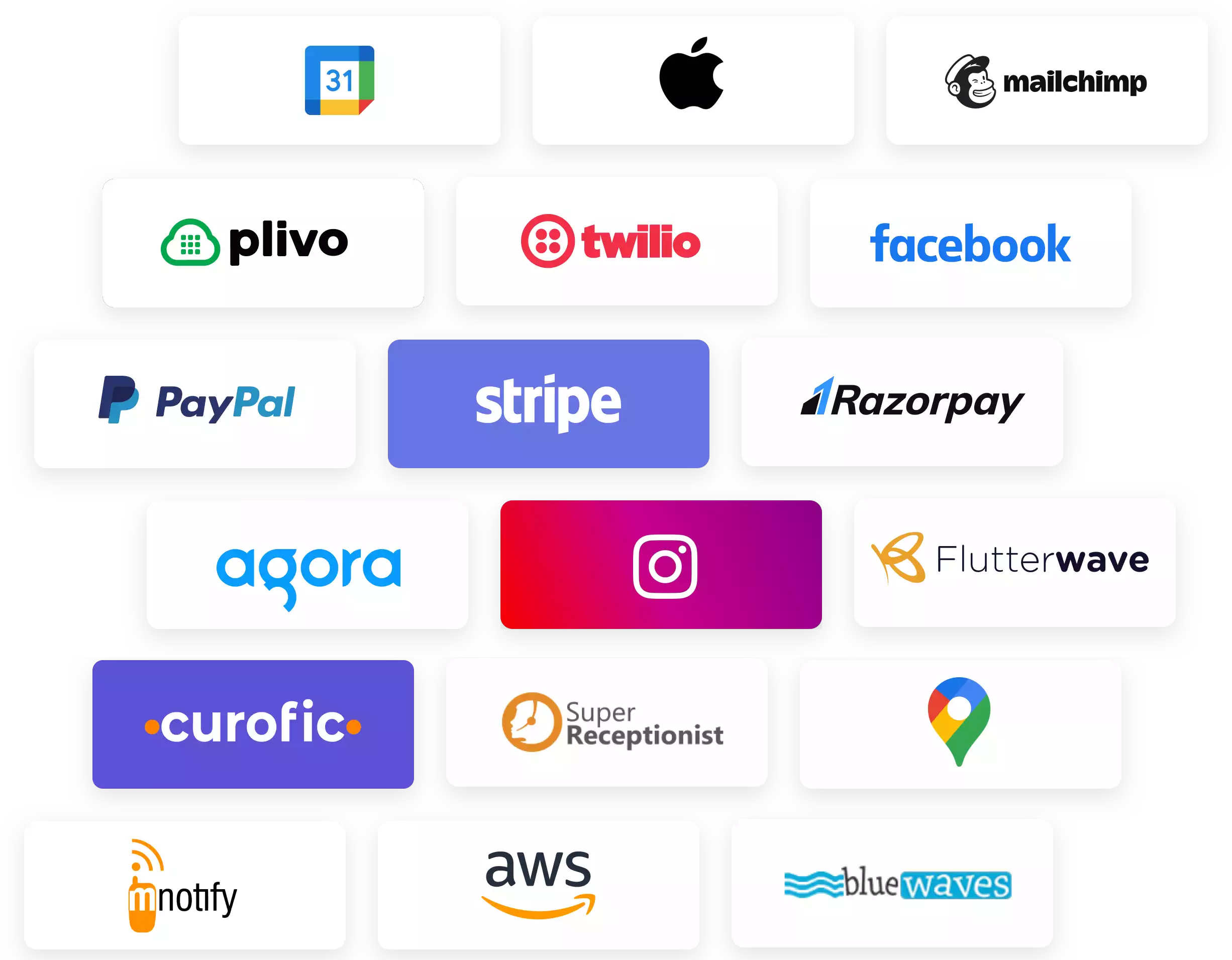 More
Exceptional Support, period.
Believing "Customer is the King," we have actually built our company around this mantra. Customer Support has been turned into a game internally, where each of our team member's score points by helping You. More the points, bigger the rewards at the end of every quarter. And Yes! Participation is mandatory for all, including the CEO, CTO, co-founders, management, developers, product specialists, in short everyone. We are because of You and we have built a culture that will not let anyone forget this at Clinicea.
More
Most Powerful Clinic Chain Software.
Clinicea has built one of the most powerful Clinic Chain Management Software. It is used by some of the largest Clinic Chains in the world. You can link up and centralize management of all your Clinics in a day.
There are tons of additional features for Business Intelligence, Medical CRM, CallBox, Cloud Telephony and more. Have a look at the Perfect Software Platform for Clinic Chains.
Data Security & Compliance
Clinicea platform is battle-hardened, with deployments across multiple different configurations – multi-specialty integrated polyclinics, sensitive vaccination centres, as well as enterprise clinic chains with 90+ locations. All the things you need to secure your data and to be in compliance, are already in place. Additionally, your data is housed in the best and most secure facility, money can buy. End-to-end infrastructure is on Microsoft Azure Cloud, on geo-redundant, auto failover, high availability servers.
We have all of it preconfigured, with our specialists on hand to guide you every step of the way.
"Built to run for you locally. Loved globally across continents"
20+ Specialties, across 6 continents, switched to Clinicea for growth.
The biggest plus point about Clinicea which makes them different from all the others is that they are open to suggestions, which is actually why I decided to go with them in the first place. And they have definitely lived upto my expectations.
Dr. Zubain Vaid, Founder, Unique Hospital
See live the cutting-edge technologies your Clinic can have. 1-on-1 walkthrough by a Product Specialist.
Customizable EMR

Patient Engagement

Virtual Assistant