Affordable pricing for growing Clinics
Get in touch for a demo. Take it for a 14-day free spin. Includes full support and free training during trials too. No Credit card required.
STARTER
Ideal for solo practitioners. You get a tailor made-EMR, so you can write your notes just like on paper. Simple and quick. Delight your patients with stunning prescriptions and integrated online payments.
per practitioner, per month
This plan includes…
Customisable EMR

Intuitive Scheduling

Complete Financials

Inventory Management

Reporting
Ideal for Clinics who want to automate repetitive tasks and go completely paperless. Convert your website into a smart booking tool, deploy intelligent virtual assistants and automate feedback collection.
per practitioner, per month
Everything in
STARTER
plus
Virtual Assistant

Online Booking

Easy Package Management

Automated Feedbacks
ENTERPRISE
Ideal for Clinics in the expansion mode. Target Leads with promotions. Retain better with integrated Membership Programs. Increase footfall with a Referral Program. Incentivise spend with by offering a Loyalty Program.
per practitioner, per month
CallBox

Growth Program

API Access

Smart Analytics
Enhance Clinicea with add-ons
On any of the 3 plans above, you can opt-in for further add-ons listed below. It enhances your Clinicea experience.
1. Dedicated Product Specialist for Onboarding
We assign a Product Specialist as a point of contact for you. You get a dedicated person whose sole responsibility is to take your Clinic live successfully. The Product Specialist will
Configure Clinicea as per your requirements, to make workflows quick and easy.
Migrate your data from excel files or existing systems into Clinicea.
Liaise between you and our designers to make custom prescription layouts for you.
Design printouts of invoices and receipts, to align it with your Clinic's brand.
2. Data Collection, Configuration & Entry
The product Specialist shares with you an excel checklist of all the things your clinic ideally needs to go live smoothly, e.g., your clinic details, clinic website (for smart integration), clinic logo with colour theme, list of services you offer, packages if any, ongoing promotions, staff roster, etc. You simply fill up the excel sheet and share it with us.

The Product Specialist will enter all this data on your behalf. It saves you a lot of time, and slashes the learning curve tremendously. You are then taken for a walkthrough of your account, already primed and ready to go. Once you are happy with it, training starts for your team members.
3. Customisable EMR
Time for the magic to start. Clinicea has an innovative piece of Technology, "Casesheets" that can digitize your paper-based intake and consent forms, into a personally designed EMR. You simply need to share your existing paper forms, consents, pdf, doc, excel, whatever you use with us. We will digitise all of it into a smart, customised EMR.
Upto 4 Intake Forms & Consents
Upto 10 Intake Forms & Consents
Upto 20 Intake Forms & Consents
Where each form is expected to be 1 page in length.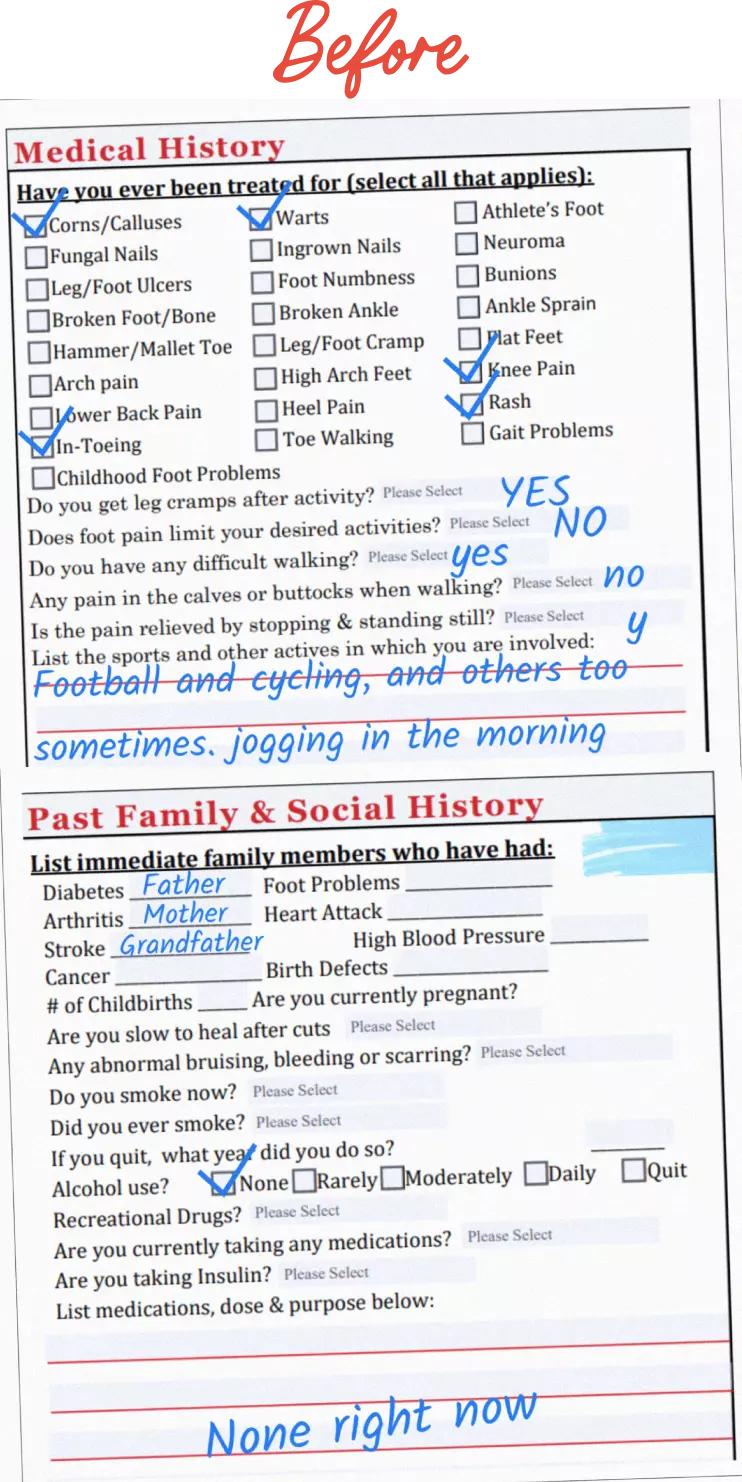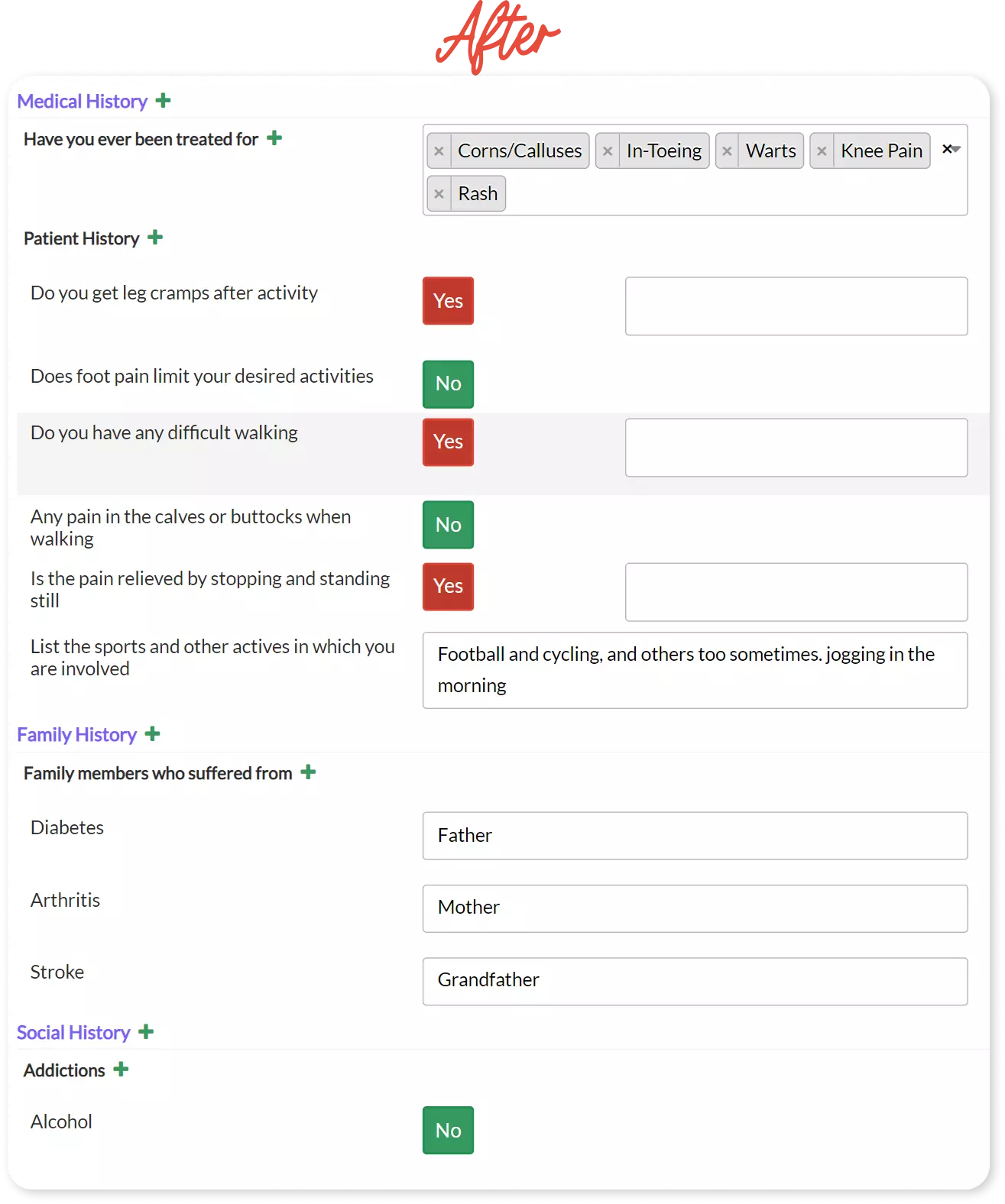 Add-on
Lab
Useful only if you have an in-house Lab. Clinicea's Lab module ensures that not a single Result will ever fall into a crack again. Seamless integration with EMR, in-house sample collection with barcoding. Lab result with automated reference range checks. 2 step internal review process. In-tray for Doctor's to sign-off on results. Automated follow-ups and more.
Learn more
.
Add-on
Pharmacy
Useful only if you have an in-house Pharmacy. Prescriptions ordered from inside the EMR, flow to the pharmacy automatically. No clicks required. Pharmacist simply sees the new prescription and fills it. Billing is just 1 click. Bring your Pharmacy and EMR together. Work faster, save more, sell more.
Learn more
.
Add-on
Patient Portal
Clinicea's Patient Portal is a 24x7 engagement platform patients can use to access data shared by you. You retain full control over what they see and access. Helps to automate engagement with your patients. Pricing includes 500 active users.
Active users mean you only pay for the value you get from Clinicea's Patient Portal. The 'Active users' are the number of unique patients who have logged in at least once in 30 days. In the event you cross the 500 mark, you can always buy additional capacity at a 10% discount.
Learn more
.
Add-on
Telehealth
The ability to video-call your patients is provided in all plans. This feature can be used by opening a direct account with any one of the video-calling providers e.g., agora.io, zoom.us etc., and then letting us know about it. We will provide a direct integration to your preferred service at no cost. However, we do not provide support, or can control the quality of service being provided by any of these companies.