Simplest EMR in the world is Paper
So, we built the tech that can convert paper-based workflows into a custom made EMR for you. Cutting-edge tech that makes the impossible, now possible.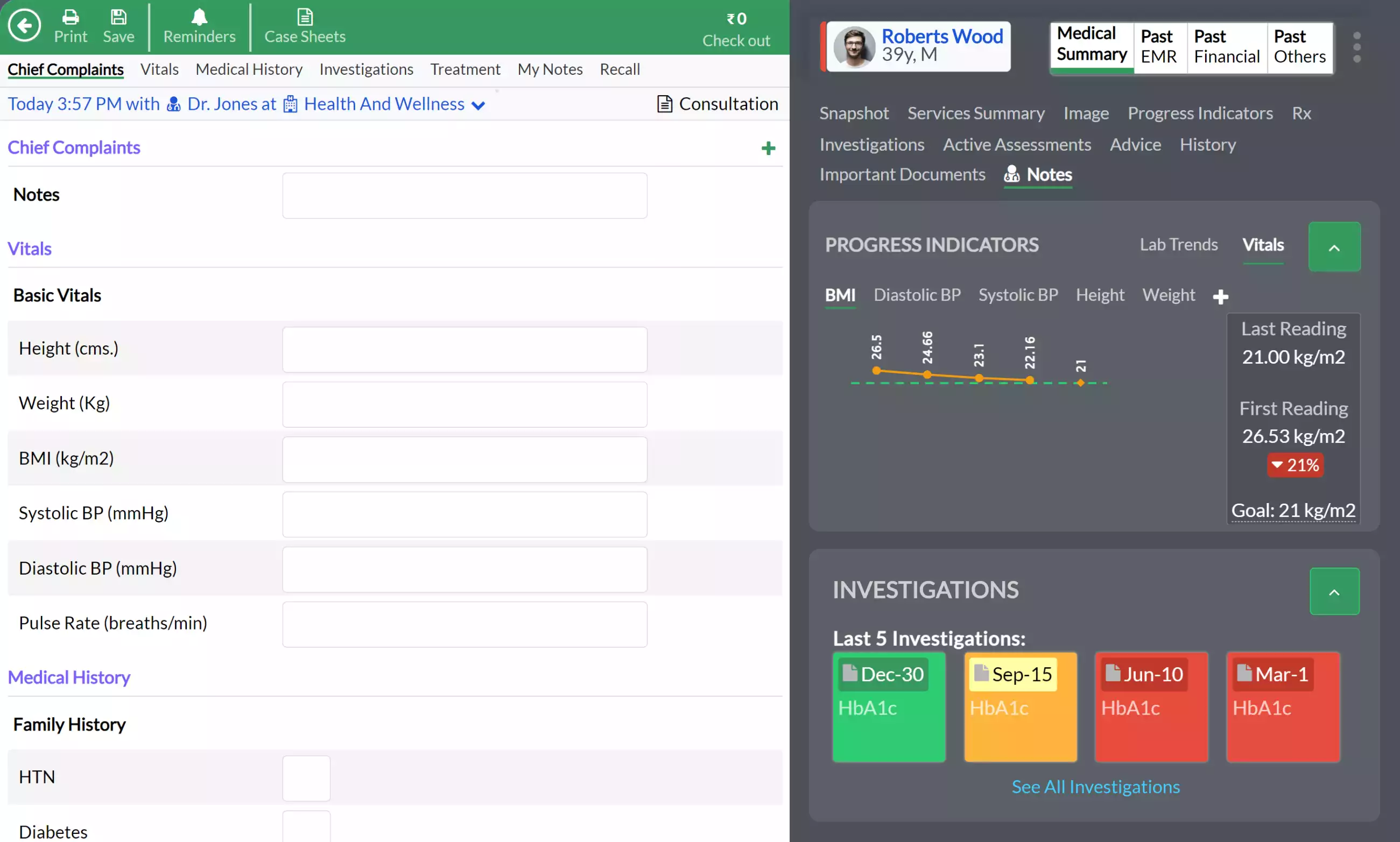 Custom Built EMR just for you.
Define the questions you want to ask, to create your own questionnaire.
Control the look and feel of each question and answer.
Make the questions super smart, by making them gender-aware and clinically smart.
Add the option to prompt for before-and-after images as part of the form. Annotate on images taken off your camera.
Create checklists based on reason of visit and have it come up automatically in the patient's chart for fill-outs.
Use the prepared casesheets for yourself or auto-share with your patients over email/SMS for specific services.
Have the answers graphed, aggregated, computed, linked – anything you need to get done.
Save prefilled templates for reuse and super-fast completion of notes.
Switch-on auto computing formulas, mandatory fields, abnormal data detection, auto population of history data and much more.
Clinical intelligence is at the very core of Clinicea EMR. The best part – you don't need to move a muscle. Our team of product specialists will get all of this done for you. Didn't I say your wish is our command. 😊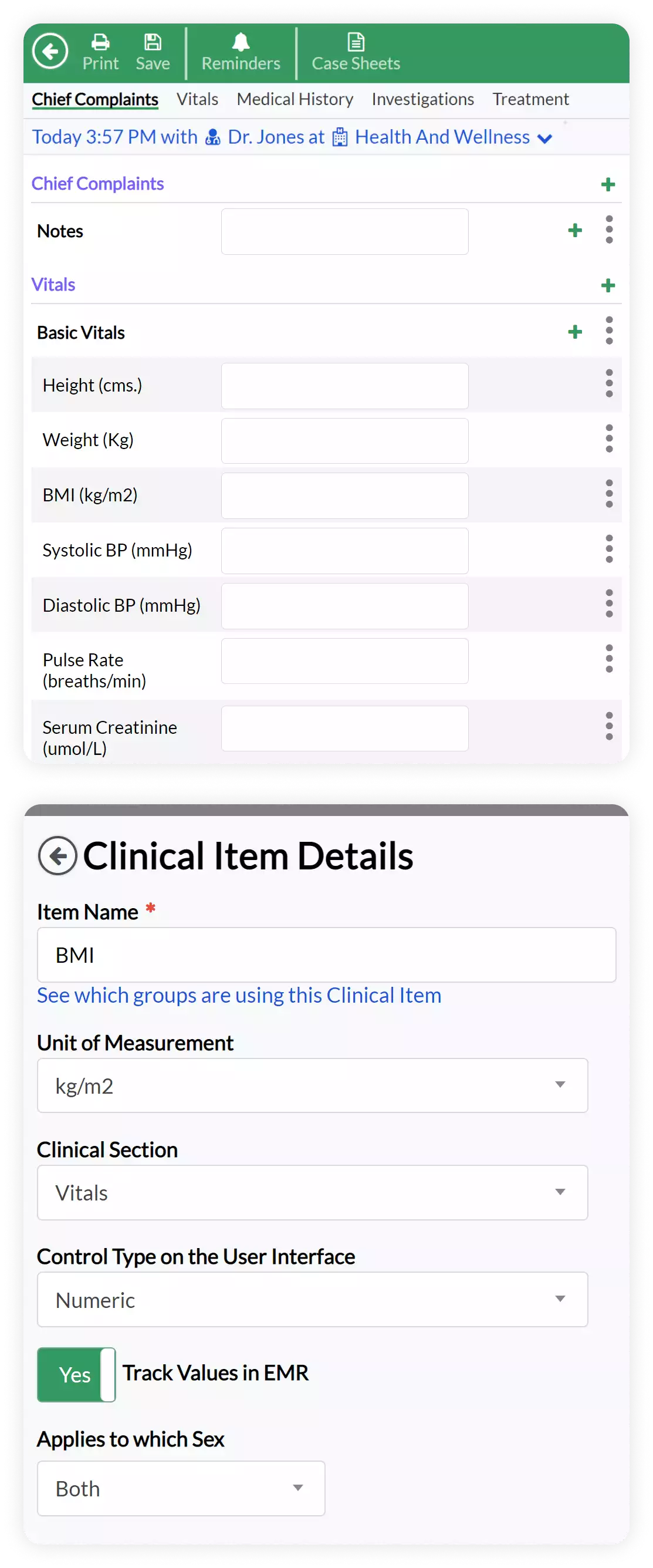 Prep up with Automated 1-Pager Medical Summaries.
The EMR module scans through all the medical records of a patient to identify pre-conditions, PMH, ongoing Rx, important trends in investigation results and more. Everything is combined to present to you an automated medical summary. Available as soon you open a patient's chart. Fully customisable – so that emphasis can be laid on what matters to you the most. Download the entire summary in a click or email it directly to the patient.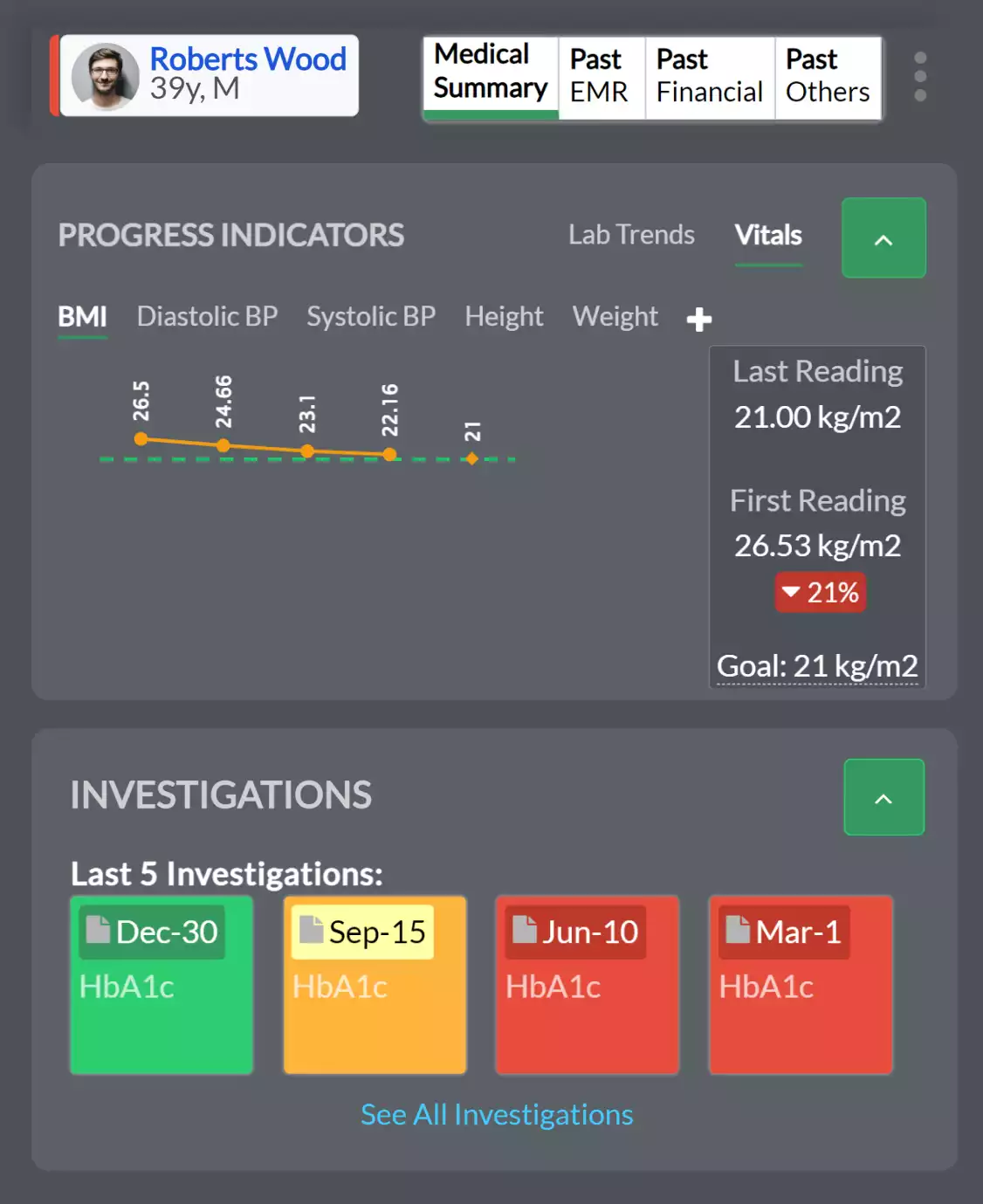 Stunning Prescriptions to WOW your patients.
We understand the need for the "Perfect Prescription". For your patients, it is the only tangible output of all the effort you are putting behind EMR. Switch to the next generation in prescription technology. Any layout, any combination of data, vital charts, lab trends, or graphics.
Tired of hearing, 'it cannot be done'- come talk to us . Any design you can think of under the sun, we can do it.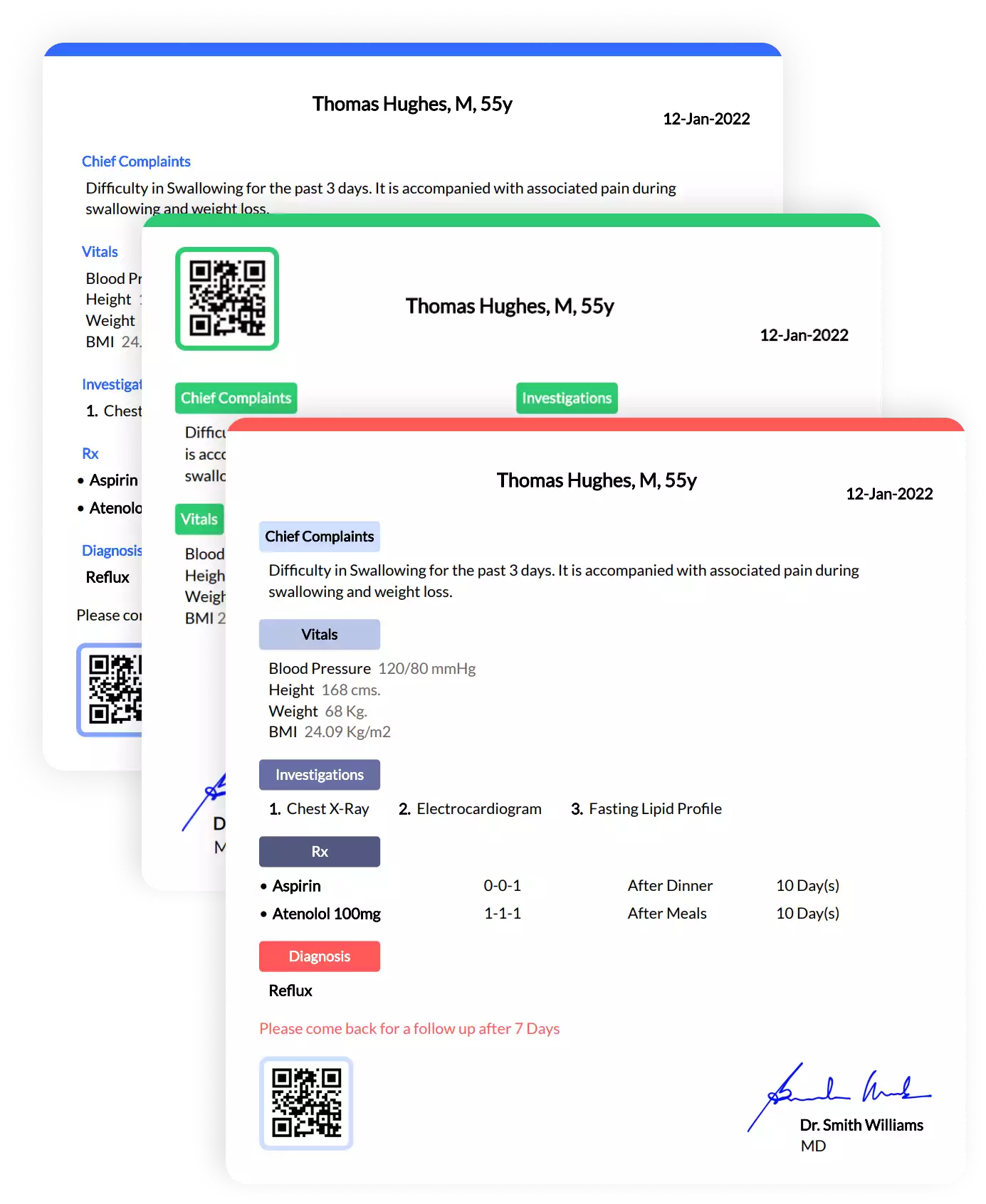 Record a visit directly on Images.
Take pictures from the camera, right inside Clinicea. Make it a part of the note-taking process. Choose from the existing library or create your own image library
Annotate on it, draw, write comments.
Tag them as before or after images.
Compare up to 4 images at a time.
Watch a pre-made slideshow of all images for each patient – courtesy your in-built personal image assistant.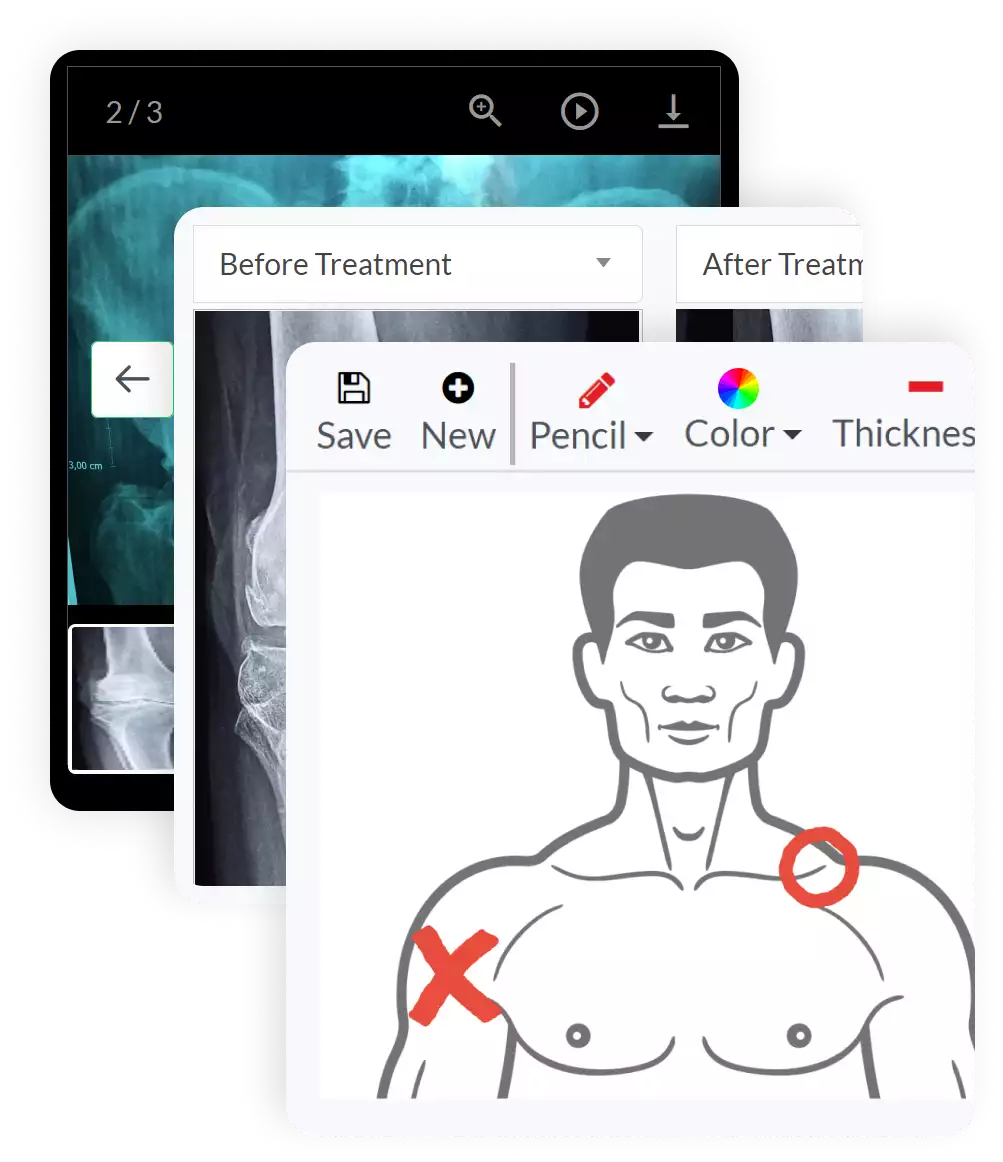 Video Call a Patient from inside the Chart.
Start a video call from inside the EMR.
Write notes in the same window while talking to the patient.
Issue join-in reminders to the patient to ensure timely attendance.
Switch-on collection of payments online and deposited directly into your account.
Issue e-prescriptions as soon as the call is over.
Ensure automated feedback collection to build your online brand.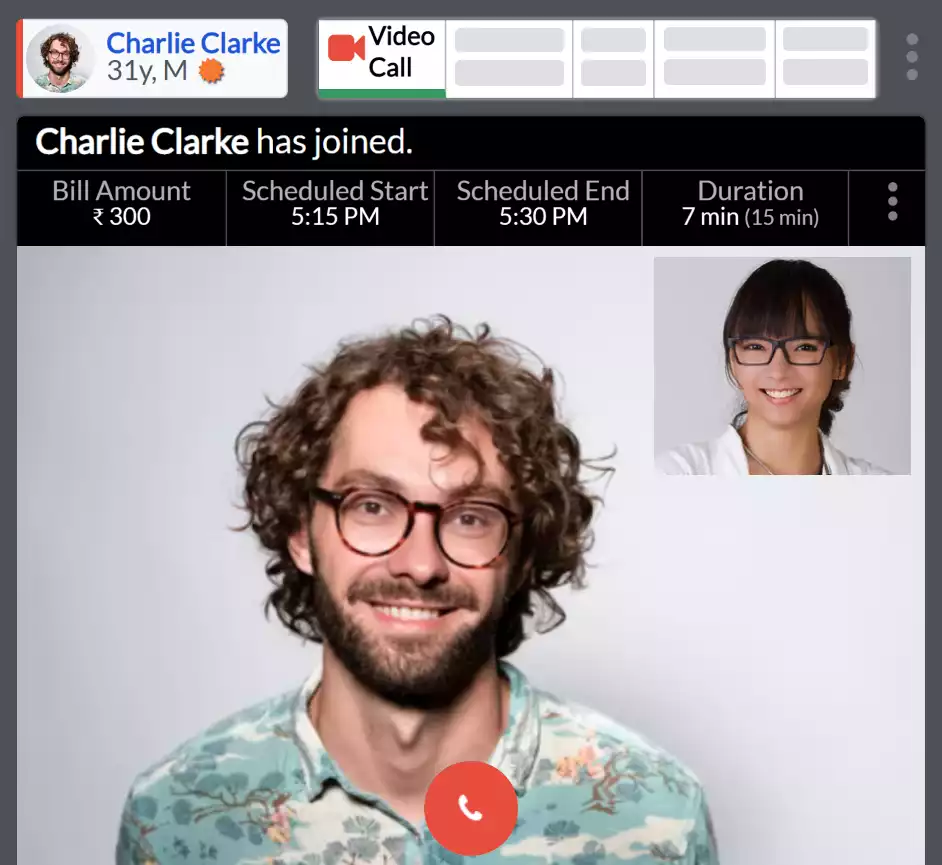 Identify Vitals trends.
Visually spot the progress of a vital within the gender and age specific reference range. See comparisons from initial reading. Print or Email the trends for easier communication with the patient.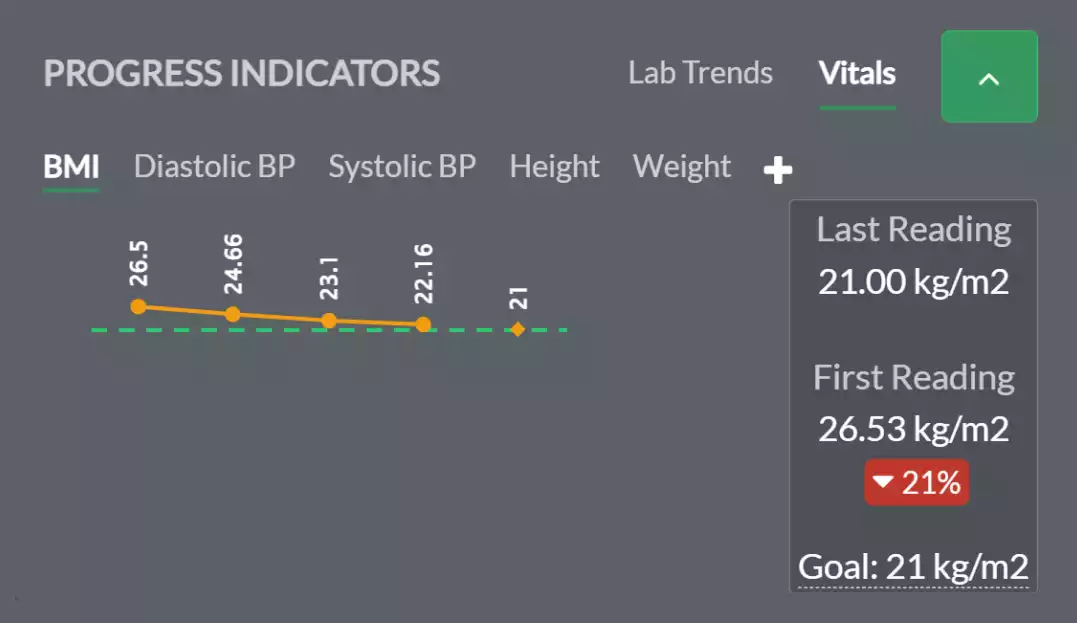 Do side-by-side visit comparisons and spot treatment plan changes.
You can visually compare progress for a patient across visits. In-built clinical intelligence ensures that you always compare apples to apples. This ensures you arrive at meaningful analysis, without complications of filtering and sorting. Track progress intuitively at the click of a button.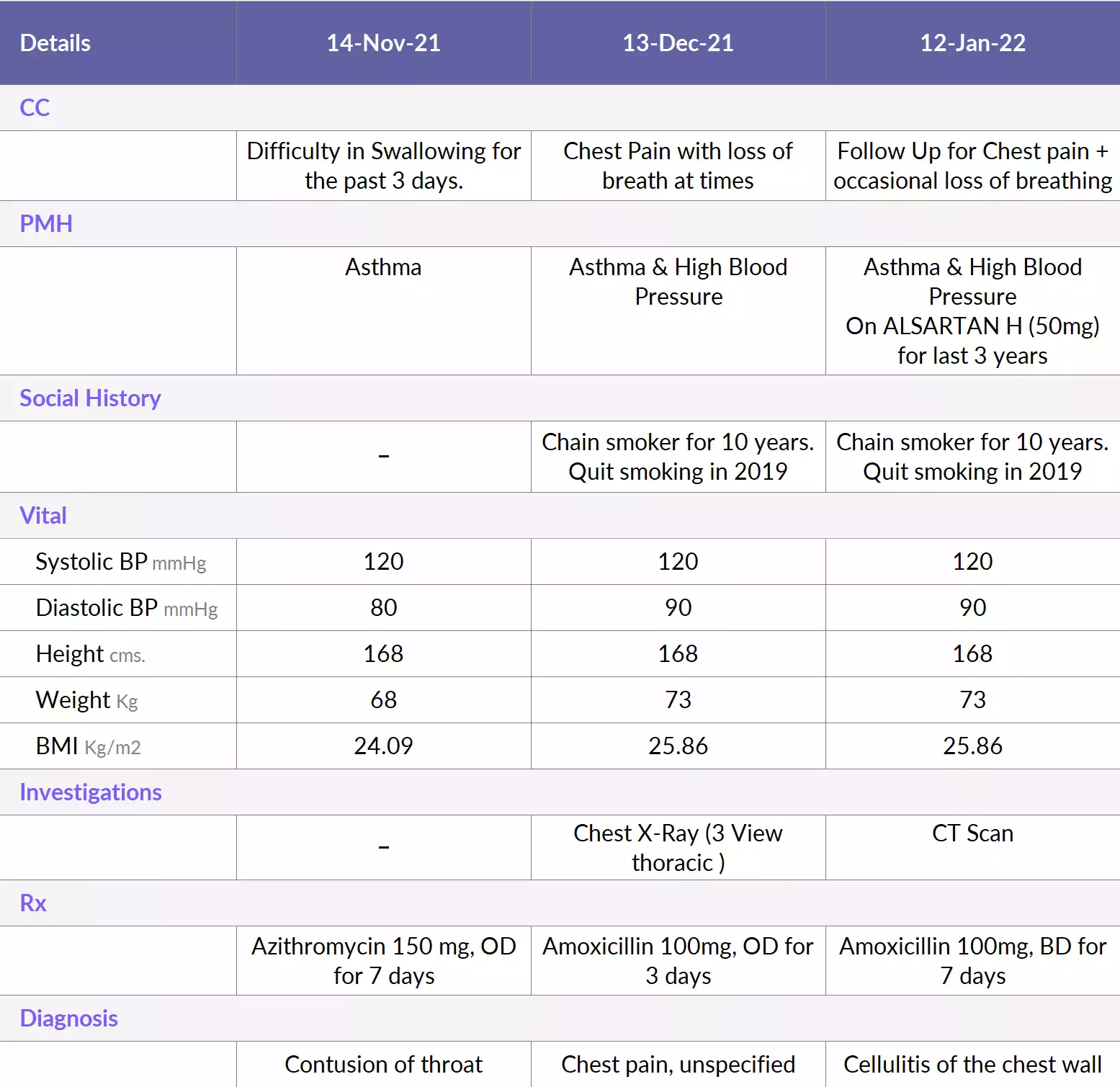 Appear Proactive, setup Preventive Health Reminders.
Setup preventive healthcare plans for your chronic patients once and let Clinicea manage it for you, from thereon. Monthly blood glucose monitoring, Quarterly HbA1c, Yearly foot exam or any other action items you want. Build generalized plans, which can be fine-tuned for individual patients.
Once the Plan is set in motion, Clinicea will track when check-ups are due. It will automatically create appointments for you, recall patient, send out SMS reminders, and when the patient comes in, Clinicea will brief you as to which health checks are due. Sounds too good to be true? Ask for a demo and see it live.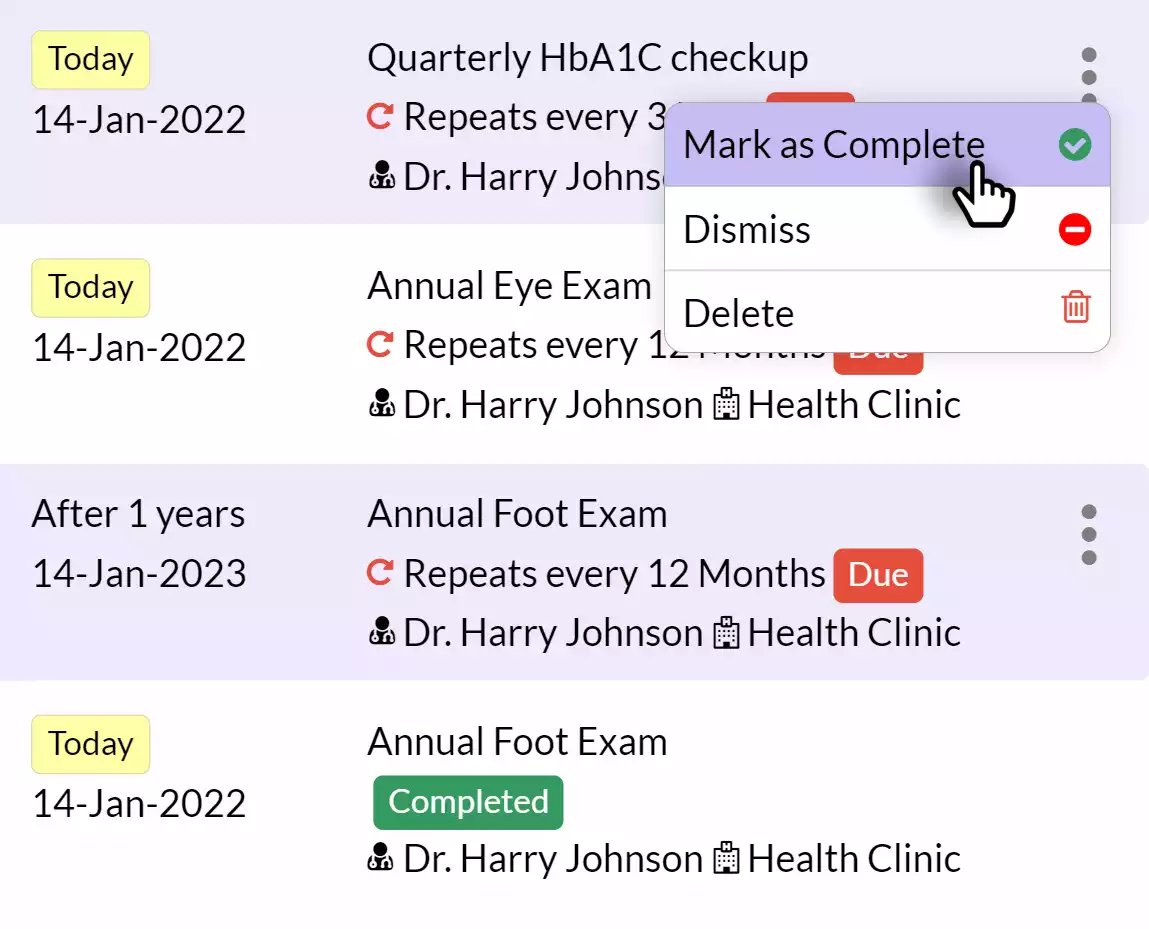 Be compliant with in-depth Medical Coding Support.
In-built support for various types of medical coding to ensure your clinic complies with all local regulation as needed. Includes support for ICD-10, ICD-9, CVX, RxNorm, LOINC, SNOWMED-CT, HCPCS and more. Data exchange, compliance and insurance claiming, all made easier with the Clinicea EMR.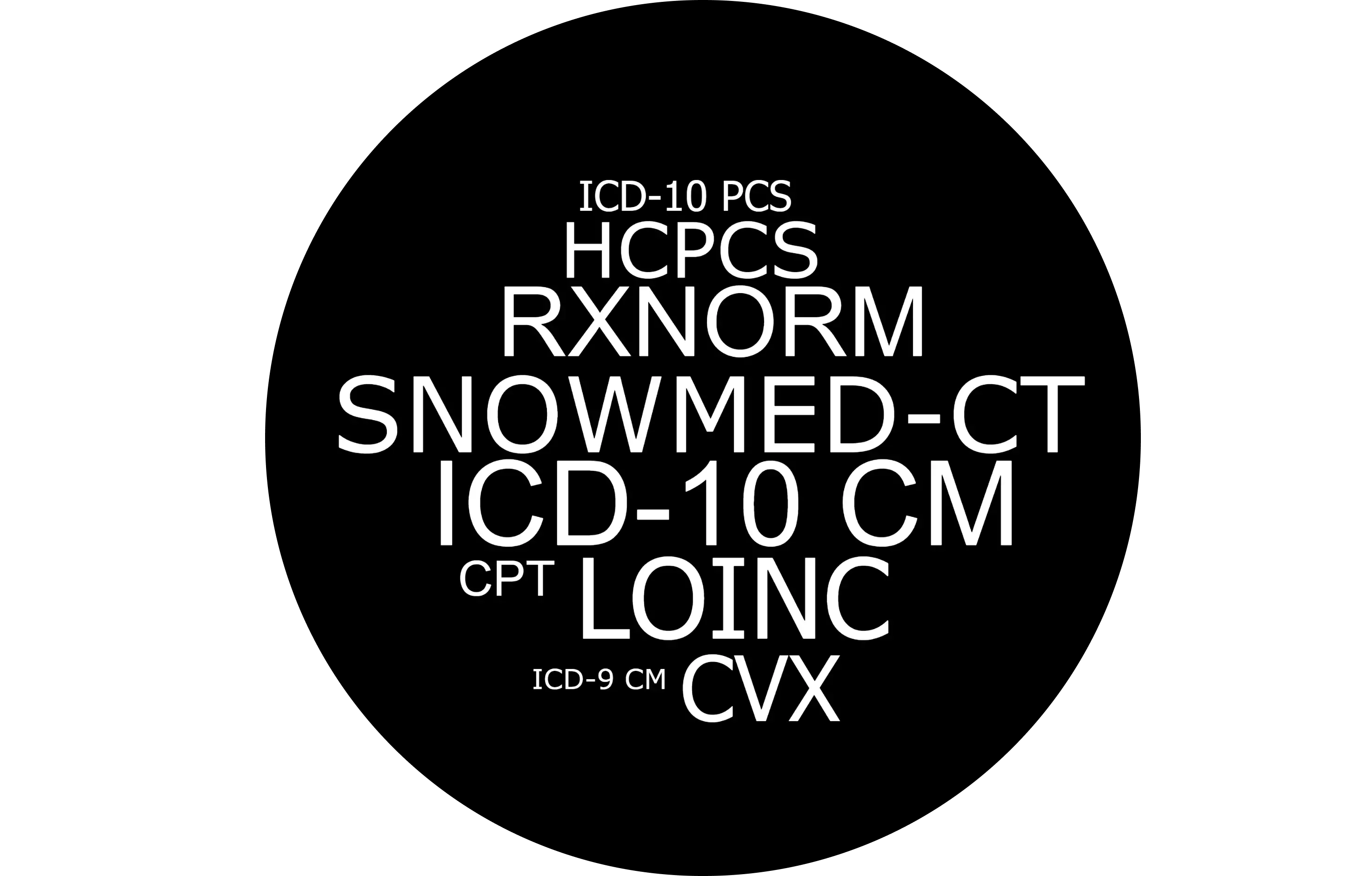 Mine your Data, its Gold.
It has been a pet project at Clinicea to assist Clinicians in research by helping extract, dissect and analyze EMR data for publication in journals. To facilitate this process, we have developed a 'clinical audit tool'.
The clinical audit tool will help you mine data, draw inferences and support research. It also checks the quality of clinical data, and lets you know where the processes have scope for improvement.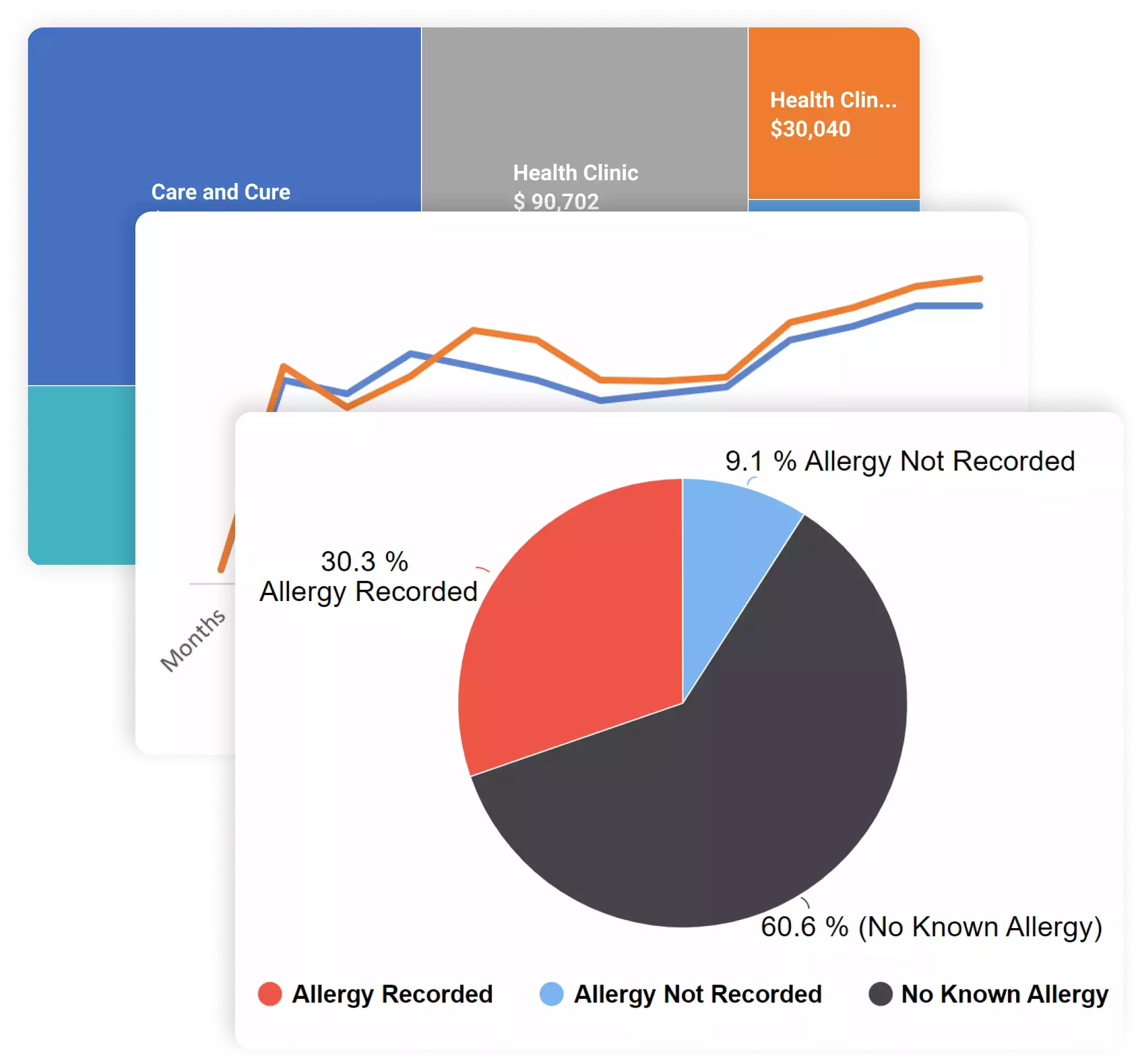 Past Dated Visits
You can easily back-date and save a visit.
Edit Visit
Read the previous visit notes. Copy the relevant one. Edit and save. That's it, chief complaints, investigations, Rx, notes, diagnosis, etc. – all copied over in a click.
External Visits
You can log complete details of an external visit for your patient, or simply upload the scanned prescription.
Triage by Nurses
Nurses start the triage by recording vitals and history. You can pick up from where they stopped and complete the visit.
Signed-off Supervised Operations
You can setup the workflow where all work done by therapists gets forwarded to a registered Doctor for review and sign-off.
Fully Integrated Lab
Record lab results while writing your notes. Clinicea understands and segregates it in the background. You can open a recorded result too, straight off your notes.
E-Prescriptions
Issue quick e-prescriptions using in-built formulary. Refills, brand substitution, generic prescribing - all supported.
Deep-Linking of Rx with Pharmacy
At a glance, spot which of the medications you prescribed, actually got purchased and dispensed to the patient.
Support all kinds of Attachments
Upload multiple files, images, videos along with labelled categories.
Confidentiality of Notes
You can opt to restrict access to a visit note by marking it as confidential, ex: VIP or STD patients.
In Built Calculators
Ready-made calculators for eGFR, BMI, Parity Support, Trimester, Fetal age, Growth Charts and more.
Allergies
Log severity along with onset; for medications, generics or specific food allergies.
Pregnancy
Full support for LMP, USG Date, Parity, Fetal age, OB-GYN History and more.
Immunisation Schedules
Create schedules on the fly and watch Clinicea take care of reminders and appointments for you. Record external vaccinations too.
Ready Investigations
Label a group of investigations once. Use the label to order the entire profile in a click.
Ready Rx
Create a combo of medications with prescribing details. Use the combo to prescribe in a flash.
Smart Assessments
When deciding on the diagnosis, patient's active assessments are brought right to the top for quicker decision making.
E-Referrals
Loop-in specialists for a 2nd opinion by issuing e-Referrals. Let them log in to Clinicea and view the specific patients records only. Of course, paper referrals are supported too.
Recall
Setup up follow-ups for a specific interval or date. Auto reminders ensures your patients don't forget.
Snapshot Summaries
Get the 360-degree patient view including medical, financial and critical admin data, without a click.
Group to Families
Combine patients into families, for quicker comparison of medical history and to switch on integrated billing.
Services Summary
See a summarised view of the services already recommended and completed. Makes cross-recommendations easy.
Pick up where the patient dropped off
Open any filled or unfilled paperwork of the patient. Review and complete it with the patient, off your own screen.
Jump to Bookmarks
Let's you jump to the specific clinical section, in a click. No need to change tabs or windows.
Preconfigured CC with HPI
A lil help, helps. We have a set of common chief complaints with pre-made HPI queries ready for your use. Of-course you can edit and change any or all of it.
Favourites
You can "favourite" anything for quick-access when writing notes. Including - Chief complaints, Rx, Investigations, parts of a questionnaire, Assessments-literally anything.
Checkout & Bill
Checkout patients straight from the EMR. Leave instructions for billing, or bill directly.
Obsessed with making EMR super-easy
The one big change you see in Clinicea EMR is that everything you need is on the same page as the patient's chart. You don't need to navigate away to different tabs or windows for past records, notes, or medical summary. Information is presented side by side. Write your current visit notes while seeing the past context alongside it.
See live the cutting-edge technologies your Clinic can have. 1-on-1 walkthrough by a Product Specialist.
Customizable EMR

Patient Engagement

Virtual Assistant